The Sea of Tranquility: A Novel (Paperback)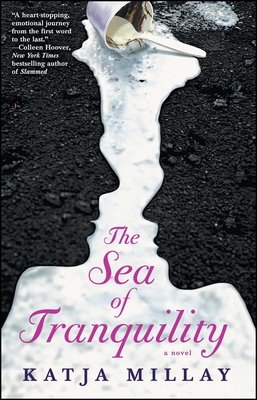 $18.99

Not Available In-Store - Usually Ships from Warehouse in 1-5 Days
Description
---
A School Library Journal Best Book of 2013
An ALA/YALSA Alex Award Winner


I live in a world without magic or miracles. A place where there are no clairvoyants or shapeshifters, no angels or superhuman boys to save you. A place where people die and music disintegrates and things suck. I am pressed so hard against the earth by the weight of reality that some days I wonder how I am still able to lift my feet to walk.

Two and a half years after an unspeakable tragedy left her a shadow of the girl she once was, Nastya Kashnikov moves to a new town determined to keep her dark past hidden and hold everyone at a distance. But her plans only last so long before she finds herself inexplicably drawn to the one person as isolated as herself: Josh Bennett.

Josh's story is no secret. Every person he loves has been taken from his life until, at seventeen years old, there is no one left. When your name is synonymous with death, everyone tends to give you your space. Everyone except Nastya who won't go away until she's insinuated herself into every aspect of his life. But as the undeniable pull between them intensifies, he starts to wonder if he will ever learn the secrets she's been hiding—or if he even wants to.

The Sea of Tranquility is a rich, intense, and brilliantly imagined story about a lonely boy, an emotionally fragile girl, and the mira­cle of second chances.
About the Author
---
Katja Millay grew up in Florida and graduated with a degree in film & television production from Tisch School of the Arts at New York University. She has worked as a television producer, and a film studies and screenwriting teacher. Currently she resides in Florida with her family. The Sea of Tranquility is her first book.
Praise For…
---
"Fans of character-driven fiction will find much to admire in this deeply felt novel that is an excellent example of crossover fiction."
— Booklist

"A heart-stopping, emotional journey from the first word to the last. Hands down my favorite book of the year...and quite possibly all of infinity."
— Colleen Hoover

"Alternating first-person narratives allow Millay to delve into the minds of both of her main characters, and she keeps readers on the edge of their seats...Populated with perfectly realized teen characters–not a stereotype in sight–this is the ideal crossover novel."
— School Library Journal (starred review)

"A stunning debut. The Sea of Tranquility stole my heart, broke it, robbed me of breath, and made me ache. Read it and fall in love with Katja Millay's raw, lyrical writing."
— Ann Aguirre

"Equally heartbreaking and uplifting—a riveting, unforgettable read. Absolutely brilliant."
— Maryse's Book Blog

"Everyone should read this book at some point in their lives. It was GORGEOUS and unforgettable. A must-read!!"
— Aesta's Book Blog

"I am finding it difficult to express with mere words just how much I adore this book. It touched me in a way that only a few books before it have. It left my heart aching, filled with sadness and despair, love and hope. So much hope."
— The Indie Bookshelf

"The Sea of Tranquility reminded me that books aren't just entertaining; they're more than that. This was more than that. It caused me to feel, invaded my thoughts, my heart...it became a part of me."
— Tough Critic Book Reviews

"One of the most AMAZINGLY written books I have read to date! Simply BEAUTIFUL! I was so connected to the story and it's characters, I completely tuned out everyone and everything around me while reading. I felt like I was there and I never wanted to leave."
— Lisa's Book Review

"The best advice that I can give readers who are considering reading The Sea of Tranquility is BUY IT NOW! The Sea of Tranquility by Katja Millay is one of the best books of 2012. It definitely earned its spot on my MUST READS list."
— Reading, Eating and Dreaming

"This is the kind of story that stays with you because you can't stop thinking about it."
— Cristina's Book Reviews