Good Mourning (Hardcover)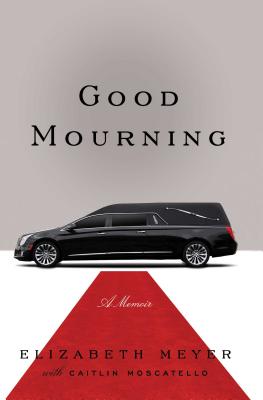 Description
---
In this funny, insightful memoir, a young socialite risks social suicide when she takes a job at a legendary funeral chapel on New York City's Upper East Side.

Good Mourning offers a behind-the-scenes look at one of the most famous funeral homes in the country—where not even big money can protect you from the universal experience of grieving. It's Gossip Girl meets Six Feet Under, told from the unique perspective of a fashionista turned funeral planner.

Elizabeth Meyer stumbled upon a career in the midst of planning her own father's funeral, which she turned into an upbeat party with Rolling Stones music, thousands of dollars worth of her mother's favorite flowers, and a personalized eulogy. Starting out as a receptionist, Meyer quickly found she had a knack for helping people cope with their grief, as well as creating fitting send-offs for some of the city's most high-powered residents.

Meyer has seen it all: two women who found out their deceased husband (yes, singular) was living a double life, a famous corpse with a missing brain, and funerals that cost more than most weddings. By turns illuminating, emotional, and darkly humorous, Good Mourning is a lesson in how the human heart grieves and grows—whether you're wearing this season's couture or drug-store flip-flops.
About the Author
---
After working at an elite funeral home in New York City, Elizabeth Meyer became passionate about making death a less taboo and scary topic. She holds a bachelor of arts from New York University's Gallatin School, an MBA from Cass Business School in London, a certification in thanatology from the Association for Death Education and Counseling, and is a licensed funeral director. Elizabeth regularly contributes to news articles, speaks on nationally syndicated radio programs, and has given guest lectures about death and dying. Currently, she advises private clients and consults for a website that deals with end-of-life issues. Elizabeth was raised and currently resides in New York City.
Praise For…
---
"If Carrie Bradshaw worked in a funeral home à la Six Feet Under, her story would look something like Meyer's charming memoir about her tenure planning funerals."

"A sweet, touching, and funny read. Meyer is truly likable, a great storyteller... A lighthearted, moving glimpse into the almost beyond."

"Still grieving her dad's death, Meyer got a job at a famed NYC funeral home (of all places). Oddly enough, as she charmingly reveals, it helped her heal."

"A page-turning memoir about what goes on behind the scenes at the funeral home where anyone who's anyone in New York goes to be embalmed."

"A behind-the-scenes look into one of the most legendary funeral homes in the country."

"Valuable lessons about living from the death industry."

"Meyer's post-college stint at a Manhattan funeral parlor yielded a memoir that's both funny and touching."

"Meyer's new memoir, Good Mourning, is a hilarious and often poignant look at her time at Crawford and her life in the aftermath of her father's death."

"[A] fast, funny memoir… Good Mourning makes perfect, macabre reading."

"A lighthearted and poignant account of a job we've always found morbidly fascinating. It's also a reminder: Sometimes the silliest send-offs are the most fitting… and the ones that truly help us heal."