Did You Ever Have a Family (Paperback)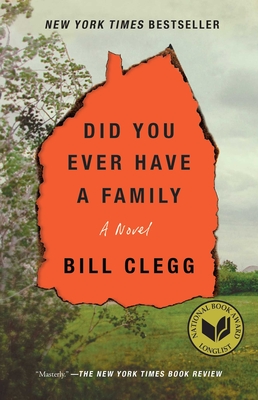 Staff Reviews
---
Bill Clegg's book is a masterpiece--quiet at times, loud at others, but brilliant.  All his characters, with no exceptions, are fully realized and speak with voices that come from the depths of their being, formed by circumstance, happenstance, pain and joy.  The intersection of disparate lives is fascinating and so true to how humans connect, disconnect, and move through the world but Clegg manages to shape and bend the lives to a cohesive whole without compromising the truth of any of their stories.  This is going to be my favorite handsell when it arrives in our stores in September.
—
Gayle
September 2015 Indie Next List
---
"It has been some time since a book has affected me quite the way this novel has. I was struck by the authentic portrayal of characters that moved beyond the pages and made me see human beings in a whole new way. A tragedy of great proportion sets in motion an unraveling of lives, an examination of what people hold dear, and a recognition of how relationships with those closest are the most important facets of life. I really lived with these characters for the brief time I was reading this book. The writing is beautiful and the mystery at the heart of the book will keep readers riveted. This is the sort of work scholars are referring to when they explain why literature and the novel is so vitally important to our understanding of the human condition."
— Jenny Lyons (W), The Vermont Book Shop, Middlebury, VT
Description
---
NEW YORK TIMES BESTSELLER - LONGLISTED FOR THE NATIONAL BOOK AWARD, MAN BOOKER PRIZE, PEN/ROBERT W. BINGHAM PRIZE, AND ANDREW CARNEGIE MEDAL FOR EXCELLENCE - AN ALA NOTABLE BOOK - Library Journal - Booklist - NPR - Kirkus Reviews - Guardian - St. Louis Post-Dispatch - Literary Hub - Powell's - Indie Next List Hailed as "masterly" by The New York Times Book Review, "a brilliantly constructed debut set in the aftermath of catastrophic loss" (2015 Man Booker Prize Judges). The stunning debut novel from bestselling author Bill Clegg is a magnificently powerful story about a circle of people who find solace in the least likely of places as they cope with a horrific tragedy. On the eve of her daughter's wedding, June Reid's life is upended when a shocking disaster takes the lives of her daughter, her daughter's fiance, her ex-husband, and her boyfriend, Luke--her entire family, all gone in a moment. June is the only survivor. Alone and directionless, June drives across the country, away from her small Connecticut town. In her wake, a community emerges, weaving a beautiful and surprising web of connections through shared heartbreak. From the couple running a motel on the Pacific Ocean where June eventually settles into a quiet half-life, to the wedding's caterer whose bill has been forgotten, to Luke's mother, the shattered outcast of the town--everyone touched by the tragedy is changed as truths about their near and far histories finally come to light. Elegant and heartrending, and one of the most accomplished fiction debuts of the year, Did You Ever Have a Family is an absorbing, unforgettable tale that reveals humanity at its best through forgiveness and hope. At its core is a celebration of family--the ones we are born with and the ones we create.