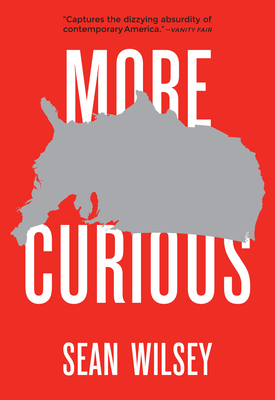 $16.00
Special Order - Subject to Availability
Staff Reviews
---
This collection of essays is so good I'd like to throw it at customers as they walk through the door, but this will have to do. Written over the last decade and published in places like McSweeney's, The New Yorker, and GQ, More Curious is a moving and hilarious record of a weird side of the American psyche. No matter the subject, Wilsey is able to hone in on the small moments that define us. He spends time in a rural Texas artist colony, muses on the philosophy of skateboarding, profiles New York's most successful restaurateur, and more. For fans of the essays of David Foster Wallace (the late author even makes a cameo in one story), this book is an illuminating chronicle of the new millennium.
—
Jeremy
Description
---
From reviews of the hardcover edition:
"More Curious begins by making you wonder what kind of book it is, exactly, and ends by reminding you that categories are nonsense when you're enjoying something this much."
--Jennifer Egan, Pulitzer Prize-winning author of A Visit from the Goon Squad
"Mr. Wilsey can write in a range of emotional octaves, moving from the comic to the philosophical to the streetwise with ease, while putting body language on his prose to give the reader an almost synesthetic sense of what he's saying."
--Michiko Kakutani, New York Times
"More Curious captures the dizzying absurdity of contemporary America."
--Vanity Fair
"Sean Wilsey's witty essays from his cross-country adventures form a portrait of the weird side of contemporary America."
--Los Angeles Times
"When Wilsey is at his best, and he often is in More Curious, his prose has a barely contained energy that makes his work both informative and entertaining. And often, whether his subject is rats or NASA or skateboarding or soccer, that work is provocative and huge-hearted."
--Alex Lemon, Dallas Morning News
"Sometimes he's funny and self-deprecating and sometimes he's somber; sometimes his scope is as sweeping as our country, and other times it's as narrow as Buzz Aldrin's taste in wristwatches. There's one through-line from beginning to end, though: those careful, thoughtful, perfect sentences."
--Alison Hallett, Portland Mercury
"Generation-defining . . . a welcome chronicle of our age."
--David Kurlander, San Francisco Bay Guardian
Now in paperback, with a bonus essay not included in the hardcover edition, here is Sean Wilsey's celebrated collection of essays on the glory and misery, the beauty and absurdity of contemporary America.
About the Author
---
Sean Wilsey is the author of a memoir, "Oh the Glory of It All," and the co-editor of "State By State: A Panoramic Portrait of America." He lives in Marfa, Texas.