Under Surveillance: Being Watched in Modern America (Hardcover)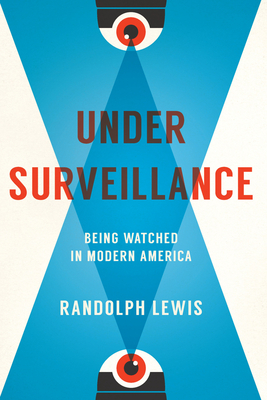 $27.95

Special Order - Subject to Availability
Description
---
Never before has so much been known about so many. CCTV cameras, TSA scanners, NSA databases, big data marketers, predator drones, "stop and frisk" tactics, Facebook algorithms, hidden spyware, and even old-fashioned nosy neighbors—surveillance has become so ubiquitous that we take its presence for granted. While many types of surveillance are pitched as ways to make us safer, almost no one has examined the unintended consequences of living under constant scrutiny and how it changes the way we think and feel about the world. In Under Surveillance, Randolph Lewis offers a highly original look at the emotional, ethical, and aesthetic challenges of living with surveillance in America since 9/11.
Taking a broad and humanistic approach, Lewis explores the growth of surveillance in surprising places, such as childhood and nature. He traces the rise of businesses designed to provide surveillance and security, including those that cater to the Bible Belt's houses of worship. And he peers into the dark side of playful surveillance, such as eBay's online guide to "Fun with Surveillance Gadgets." A worried but ultimately genial guide to this landscape, Lewis helps us see the hidden costs of living in a "control society" in which surveillance is deemed essential to governance and business alike. Written accessibly for a general audience, Under Surveillance prompts us to think deeply about what Lewis calls "the soft tissue damage" inflicted by the culture of surveillance.
About the Author
---
Randolph Lewis is a professor of American studies at the University of Texas at Austin. He has written extensively on how visual culture shapes our sense of the nation, often focusing on people who work outside the cultural mainstream. His previous books include Navajo Talking Picture: Cinema on Native Ground.
Praise For…
---
Lewis can write perceptively and with power, as in an autobiographical section reflecting on the social surveillance of his hardscrabble 1970s suburban childhood...Will appeal to sociologists and students of cultural studies and behaviors.
— Kirkus

[T]his book contributes a clear formulation of key issues at stake while reminding us that technological advances unaccompanied by critical reflection and public discussion risk what Thoreau—one of Lewis's political and philosophical touchstones—called 'but improved means to an unimproved end.'
— Publishers Weekly

[An] accessible, ruminative, anxiety-ridden new book on American surveillance culture.
— Texas Observer

Under Surveillance takes a compelling, and very chilling, look at the changes in our culture since 9/11 . . . Lewis examines the issue from a multiplicity of angles, all of which are worth giving deeper thought.
— Mandatory

[A] warmly conversational treatment that is also searching and literate.
— Survival