Why Marianne Faithfull Matters (Music Matters) (Paperback)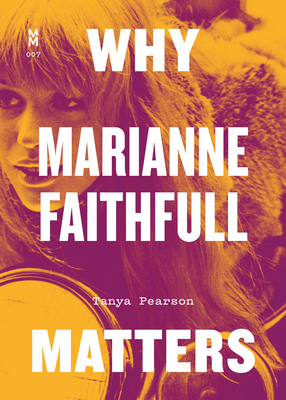 Description
---
First as a doe-eyed ingénue with "As Tears Go By," then as a gravel-voiced phoenix rising from the ashes of the 1960s with a landmark punk album, Broken English, and finally as a genre-less icon, Marianne Faithfull carved her name into the history of rock 'n' roll to chart a career spanning five decades and multiple detours. In Why Marianne Faithfull Matters, Tanya Pearson crafts a feminist account that explains the musician's absence from the male-dominated history of the British Invasion and champions the eclectic late career that confirmed her redemption.
Putting memoir on equal footing with biographical history, Pearson writes about Faithfull as an avid fan, recovered addict, and queer musician at a crossroads. She's also a professional historian unafraid to break from the expectations of the discipline if a "titty-centered analysis" or astrology can illuminate the work of her subject. Whether exploring Faithfull's rise to celebrity, her drug addiction and fall from grace as spurned "muse," or her reinvention as a sober, soulful chanteuse subverting all expectations for an aging woman in music, Pearson affirms the deep connections between listeners and creators and reveals, in her own particular way, why Marianne Faithfull matters.
About the Author
---
Tanya Pearson is a public historian and director of the Women of Rock Oral History Project, a collection of digital interviews and written transcripts documenting the lives and careers of women-identified rock musicians. Her work has appeared in Bust Magazine, Memoir Mixtapes, and Oral History Journal.
Praise For…
---
Fans of Faithfull will find so much to love in this book, and it will surely convince those who don't know anything about her beyond the label of 'Jagger's pathetic, junkie ex-girlfriend' that Faithfull's enormous body of work is worth a proper listen. But the true joy of Why Marianne Faithfull Matters has relatively little to do with its specific subject and everything to do with the voice of its author. Pearson deserves the widest possible audience and her mission to make rock music more inclusive deserves expansive, expensive support. She is analytically lean and self-aware where most rock critics are bloated and self-indulgent. She is organically super funny where most rock critics are cocky showboats.
— PopMatters

A passionate and timely tome.
— Please Kill Me

Like Faithfull, Pearson is a musician. She's also experienced addiction, and continually pushes back against the trope that substance abuse is a yes/no, before/after proposition...In Pearson's account, Faithfull matters for her flaws as much as her triumphs; the book doesn't lionize Faithfull or inflate the influence of her catalog, but rather makes the case for Faithfull as an artist perpetually in the process of becoming.
— The Current

Pearson writes the book she should have been able to read about musician, actor, and rock icon Marianne Faithfull...Why Marianne Faithfull Matters is an accessible and thoughtful approach to music scholarship that gives Pearson creative license to argue for Faithfull's significance. But, at its core, the text is about women's perpetual search for models and the singular relationships between women musicians and their female fans...It's an essential Marianne Faithfull text, a vital addition to rock scholarship, and most of all, a pleasure to read.
— Journal of Popular Music Studies