Today Will Be Different (CD-Audio)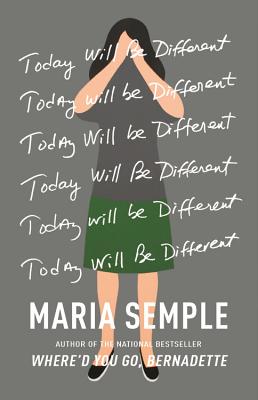 $30.00
Email or call for price.
October 2016 Indie Next List
---
"With her signature writing style and matter-of-fact and honest tone, Semple can make me laugh while reading like no one else can. Truth be told, there's not much to the plot here other than Eleanor decides today will be different and, of course, everything that could possibly go wrong does go wrong. However, the simplicity of the plot is what makes this book a wonderful read for all of us who don't have it together, who forget things, and who sometimes just plain lose their cool."
— Kristin Beverly (E), Half Price Books, Dallas, TX
Description
---
A brilliant novel and instant New York Times bestseller from the author of Where'd You Go, Bernadette, about a day in the life of Eleanor Flood, forced to abandon her small ambitions and awake to a strange, new future.

Eleanor knows she's a mess. But today, she will tackle the little things. She will shower and get dressed. She will have her poetry and yoga lessons after dropping off her son, Timby. She won't swear. She will initiate sex with her husband, Joe. But before she can put her modest plan into action, life happens.

Today, it turns out, is the day Timby has decided to fake sick to weasel his way into his mother's company. It's also the day Joe has chosen to tell his office -- but not Eleanor -- that he's on vacation. Just when it seems like things can't go more awry, an encounter with a former colleague produces a graphic memoir whose dramatic tale threatens to reveal a buried family secret.

Today Will Be Different is a hilarious, heart-filled story about reinvention, sisterhood, and how sometimes it takes facing up to our former selves to truly begin living.
About the Author
---
Maria Semple is the author of This One Is Mine and Today Will Be Different. Before turning to fiction, she wrote for Mad About You, Ellen, and Arrested Development. Her writing has appeared in The New Yorker. She lives in Seattle.
Praise For…
---
Named a Notable Book of 2016 by the Washington Post, one of Amazon's Top 100 Books of the Year, one of New York Times Book Review's 100 Notable Books, one of The Guardian's Best Books of 2016, one of NPR's Best Books of 2016, a Must-Read Book of 2016 by PopSugar, one of EW's 20 Best Books of 2016, one of Glamour's Top Ten Books of the Year, and one of Kirkus Reviews' "Best 100 Fiction Books of 2016"

"Another tour de force.... The success of this poetic, seriously funny and brainy dream of a novel -- 'Mrs. Dalloway Takes Laughing Gas,' perhaps -- has to do with Maria Semple's range of riffs and preoccupations. All kinds of details, painful and perverse and deeply droll, cling to her heroine and are appraised and examined and skewered and simply wondered at. If that's considered a trick, readers of Semple's novel will be overjoyed to fall for it."--Meg Wolitzer, New York Times Book Review

"Writing a comedy novel that manages to connect emotionally is no easy task, but Semple knocks it out of the park. TODAY WILL BE DIFFERENTis hilarious, moving and written perfectly, and it makes a good case for Semple as one of America's best living comic novelists."--Michael Schaub, NPR.org

"Readers who devoured Where'd You Go, Bernadette will love Eleanor [Flood]'s wry voice and dark humor."--Kim Hubbard, People

"Loopy, deeply and darkly funny, and brave.... Semple is a master of the social skewer, boldly impolite and impolitic.... Eleanor is as sharp and Semple-esque as they come, which is to say a delightful danger to herself and others, sympathetic, and so very smart."--Elinor Lipman, Washington Post

"A little bit wacky and always wise, and we recognize people we know--including ourselves--on every page."--Elisabeth Egan, Glamour

"Outrageously funny. But [TODAY WILL BE DIFFERENT] cuts closer to the bone than Bernadette did, and its main character's problems feel more real.... Ms. Semple is an immensely appealing writer, and there's something universal in her heroine's efforts to get a handle on a life spinning out of control. We may not all have long-lost sisters who live in the most crazily status-obsessed corners of the South, but we surely know what she means about waking up each dawn with new resolve that melts by midmorning."--Janet Maslin, New York Times

"Semple brilliantly conveys a whole array of angst -- self-deprecation and existential dread and a panic attack of neuroses -- while simultaneously packing in a liberal dose of levity.... It's a joy to watch Eleanor struggle to change for the better. That we get to laugh along with her is an added bonus."--Maris Kreizman, Los Angeles Times

"Deliciously mucky mayhem."--San Francisco Chronicle

"A vivid, hilarious, remarkably compact book--271 pages' worth of crisp observations and occasionally too-close-to-home truths about modern relationships. And it's anchored by a gorgeous scrapbook-slash-mini-graphic novel."--Brian Raftery, Wired

"Quirky and blade-sharp."--Tina Jordan and Isabella Biedenharn, Entertainment Weekly

"Wickedly funny.... Semple's trademark dark humor and knack for creating a page-turning story out of socially awkward interactions will make this one you can't put down--and won't want to."--Adam Rathe, Town and Country

"A zesty, memorable novel."--Suzy Feay, Guardian

"Brisk, amusing and engaging, and Semple is a champion observer of the human condition."--Connie Ogle, Miami Herald

"TODAY WILL BE DIFFERENTis so unique, so smart, so funny, so beautifully humane, so utterly of our times, it's astonishing. I've scribbled exclamation points and underlined passages on almost every single page so I can go back and savor. I've started quoting it as if it's already a classic--which, no doubt, it will be."--Gillian Flynn, author of Gone Girl and Dark Places

"Written with Semple's hilarity-cum-sincerity, Eleanor grapples with the past to reconcile her future and makes readers smile."--Steph Opitz, Marie Claire

"Crackling with honesty and heart."--Jarry Lee, BuzzFeed

"TODAY WILL BE DIFFERENTstarts off as a funny, rant-y novel and becomes, by its end, an unexpectedly heartfelt exploration of a woman's inner life. (And yes, it's still funny.)"--Moira Macdonald, Seattle Times

"Fans of Bernadette will recognize Semple's propulsive and satirical dialogue."--Trine Tsouderos, Chicago Tribune

"TODAY WILL BE DIFFERENTis a sublimely funny and inventive novel driven by Maria Semple's razor-sharp observations and a voice that leaps from the page."--Jess Walter, author of Beautiful Ruins

"Consistently funny.... The heart of this book, the parts Semple wraps the best language around, is Eleanor's fear of her chosen family's rejection. Her aging body makes her feel inadequate, and she uses buckets of hilarious, fresh-seeming self-deprecatory language about that. The absurd lengths she goes to and the level of creativity she employs to seek out her husband's secret are the funniest, most moving parts of the book. In these moments, Semple's humor is tight and self-aware. Her scene-setting abilities amaze."--Rich Smith, The Stranger

"Hilarious and smart."--Claire Stern, InStyle

"A second dose of [Semple's] madcap genius."--Tiffany Blackstone, Redbook

"Semple has mastered the intersection of sad and nuts like no one else.... Like a cross between Jonathan Franzen's The Corrections, the best episides of Bob's Burgers, and the private journal of the smartest, most irritable woman you know, TODAY WILL BE DIFFERENTis a reckless and scattershot work of genius."—Heather Havrilesky, Bookforum

"Peppered with unforgettable one liners, laugh-out-loud funny observations, and plenty of those little truths we all think to ourselves but never say out loud. Eleanor's outlook on life, her internal dialogue and the conversations she carries out with others -- all brought to life on the page through Semple's whip smart writing -- will have you blinking back tears."--Sadie L. Trombetta, Bustle

"Whipsmart, dazzling, darkly comic and deeply touching. I loved it!"--Marian Keyes, author of The Brightest Star in the Sky and This Charming Man

"Equal parts smart and funny."--Jenny Comita, W

"A smart, laugh-out-loud funny, and thoughtful novel about how we reinvent ourselves and how we need to face the truth about our lives before we can truly change."--Brenda Janowitz, PopSugar

"Bittersweet, hilarious, perceptive."--The Millions

"Where'd You Go, Bernadette had a madcap vibe and a 'bad mother' protagonist that captivated readers. TODAY WILL BE DIFFERENThas the same snappy dialogue, zippy adventures and inside jokes about the Seattle scene."--Meganne Fabrega,Minneapolis Star Tribune

"Semple is second to none in humorous fiction. Her heroines are deeply flawed but totally relatable, and Eleanor is no exception. TODAY WILL BE DIFFERENTis filled with transcendent moments of humanity, reminders that while we all can aspire to improve, sometimes it's OK to just appreciate what is already in front of us."--Amy Scribner, BookPage

"'Today will be different,' Eleanor Flood tells herself, and oh baby hang on for a wild ride that's like nothing Eleanor sees coming. In this brilliant depiction of a woman hanging on by her fingernails, Maria Semple delivers a perfect panic of a day on which the barely tolerable, muddle-through-it desperation that so many of us have known at one time or another suddenly erupts with life-shattering force. Can an existential crisis make us laugh? Such is Semple's talent that this one does, without losing any of the punch or gravity of the hardest kinds of lived experience."--Ben Fountain, author of Billy Lynn's Long Halftime Walk

"TODAY WILL BE DIFFERENT is going to delight the many, many fans of Where'd You Go, Bernadette."--Michael Merschel, Dallas Morning News

"Hilarious [and] heart-warming."--Dana Getz, Entertainment Weekly

"A stressed-out heroine resolves to change her rather plush life in this comedy, whose precious Seattle setting is as ripe a target for Semple's satire as it was in Where'd You Go, Bernadette."--Kate Tuttle, Boston Globe

"God, I love Maria Semple! TODAY WILL BE DIFFERENTis just as funny, poignant, and life-affirming as Bernadette... but illustrated too!"--Nina Stibbe, author of Love, Nina and Paradise Lodge

"Fans of Where'd You Go, Bernadette will eat up Semple's entertaining new novel about a graphic artist. In it, the imperfect wife and mother (is there any other kind?) vows to up her domestic game, only to have her day go badly awry."--Jane Henderson, St. Louis Post-Dispatch

"A precocious child, a stale marriage and plenty of clever quirk make this a story you can't put down. Expect glares from fellow passengers as you laugh out loud."--Melissa Kravitz, AM New York

"I had the uncanny feeling, while reading TODAY WILL BE DIFFERENT, that Maria Semple had somehow snuck into my house when I was asleep, took an x-ray image of my heart, then painted it by hand in neon colors. This book is searingly honest and hilarious and dark and neurotic. It is dizzying. Best of all, it is delicious."--Lauren Groff, author of Fates and Furies

"Hilarious and touching, this will satisfy Semple's numerous fans and gain her new ones. Give this to readers of women's fiction, Seattle denizens and aspiring residents, and people reviewing their lives and choices."--Alene Moroni, Booklist

"With a strong narrative voice, fast pace and her signature wit, Semple cleverly spins another raucously funny story wound around deeper implications about the unexpected ways life teaches us to find meaning."--Kathleen Gerard, Shelf Awareness

"An introspective look, both comedic and tragic, at attempting to be the best one can be."--Stephanie Sendaula, Library Journal

"A sharp, funny read.... Consistently entertaining."--Publishers Weekly

"Few will be indifferent to this achingly funny and very dear book. This author is on her way to becoming a national treasure."--Kirkus Reviews (starred review)

"Nothing short of a masterpiece."--Sophie Flack, Boston Globe

"In her latest brainy, seriously funny novel, private school parents, a husband's secret life and more confront a Seattle woman."--Editors' Choice, New York Times Book Review

"A comedic whirlwind of lessons about life, family and facing your past."--Parade

"Filled with all the zany twists and signature humor that made Where'd You Go Bernadette a runaway hit."--Liz Loerke, Real Simple

"Think Modern Family meets 24."--The Skimm

"[A] cringe comedy of manners."--Natalie Beach, O Magazine

"The desperate housewives of Seattle.... You'll chortle into your morning cup of Starbucks."--Billy Heller, New York Post

"It's the promise of what tomorrow holds for Eleanor that makes her worth getting to know"—Shannon Carlin, Bust

"We've all had the 'day from hell,' but we can't make it as clever, fun, or whip-smart as Semple, the presiding queen of literary screwball satire."—National Book Review

"Downright hard to put down.... unrelentingly entertaining, with some nice pathos thrown in the mix."—Steph Cha, USA Today (3/4 stars)

"Absolutely delicious black comedy.... A witty delight."—Yvonne Zipp, Christian Science Monitor

"Humorously depicts the struggle to keep it together."—Jamie Blynn, US Weekly

"Comedic and charming."—Leigh Nordstrom, Women's Wear Daily

"There are few readers who won't find the pathos and struggle of [Eleanor's] journey towards her new and really authentic self genuine and heartfelt."—Jana Siciliano, Bookreporter

"There are some glorious moments of social satire."—Zoë Apostolides, Financial Times

"[Semple's] a master at creating comedy out of the neuroses of people with too much time and money on their hands."—Izzy Grinspan, New York Magazine

"Semple...has a singular genius for turning the ordinary inside-out and looking at it slantwise.... The allusions are quick and rich, the riffs nonstop and spot-on, and the results surprising."—Ellen Akins, Newsday

"While TODAY WILL BE DIFFERENT can be outrageously funny, it reaches deeper into its protagonist and finds unstill waters, a river of sadness, deep within."—Jeremy Kohler, St. Louis Post-Dispatch

"Semple...has crafted another fast-paced story full of twists and turns that double down on 'mean is funny.' The result is a biting satire of well-off white liberal life that skewers everything in its path while maintaining a level of affection for its characters that balances out its acerbic sensibility."—Wendeline O. Wright, Pittsburgh Post-Gazette

"Both hilarious and moving."—Terry Gross, NPR's Fresh Air

"Warm, funny and seriously good."—Daily Kos

"A quick punch to the funny bone."—San Antonio Express-News

"Nothing could top Semple's Where'd You Go, Bernadette but her new comic novel comes close.... You'll laugh. A lot."—Sherryl Connelly, New York Daily News

"It's pretty much impossible to read Maria Semple without wanting to give the author a fist-bump. She holds up the coolest, cruelest mirror to today's farm-to-tech society."—Joanna Novak, Bustle

"Compulsively readable and surprisingly resonant.... Perfectly captures what it feels like to be a parent and a sibling and a wife and an artist, especially one who continuously feels that she is doing it all imperfectly."—Adrienne Martini, Austin Chronicle

"The humor, deft plotting and fresh and witty writing that trademark Semple's fiction will win you over."—Jeffrey Ann Goudie, Kansas City Star

"With her keen eye for detail and a razor-sharp, snark-tinged wit, Semple is becoming one of our great writers about place."—Andrew Travers, Aspen Times

"Semple has created a depressed, mean-spirited, forgetful, self-centered, scatterbrained and sometimes unlikable main character that you can't help but fall in love with"—Denver Post

"an irresistibly funny portrait of a woman who refuses to give up on love"—Moira McDonald, Seattle Times