Shrill: Notes from a Loud Woman (Compact Disc)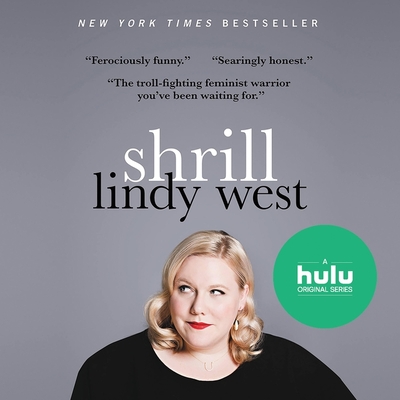 $35.00
Special Order - Subject to Availability
Staff Reviews
---
I hesitate to throw around words like "digital age" and "millennials" because they are so often obnoxious, but I can think of no better way to say this: Shrill is The Feminine Mystique for the digital age/millennials/feminists-who-are-angry-but-hopeful, etc! I love this book so much, it's almost violent. I wanted to underline every word, but I settled for constantly mentioning it to everyone I came in contact with. Lindy West has a razor-sharp intelligence and wit that comes through on every page, as does her humor and compassion. I'm basically drooling all over this staff rec, so I'll finish with this: read this book, it'll be the best thing you put in your face all year!
—
Lauren
 Most books are bad. Just go on [redacted] and take a look at how many books are selling for a penny. A lot of books are good. These books make us smile, entertain us (important note: we carry many of them here). Some books are great. These books are taught, stand the test of time, remain in print for hundreds of years, make great dinner conversation in more than one country, get translated into 60 languages. Few books are personally transformative. These books make you think, "whoa, my life is different for having read this." Even fewer are permanently transformative. These are the books that come back to you in misty visions on your death bed (see: the Waves, by Virginia Woolf). And the rarest books are the ones that have the power to be lastingly transformative to cultural masses. These books have the power to change how we live and how we treat people in the actual world, which in turn changes how other people live and how they treat people in the actual world. Shrill, by Lindy West, lives among the rarest category of book: the life-altering, life-improving (without being new-age, proselytizing self-help bullcrap), literary-political. You'll literally be a fuller, louder, better human being for reading it.
—
Joel
This is the book you're looking for. Shrill is an absolutely essential read. The way Lindy West writes about feminism, and grief, and love, and comedy, and family is so human and so relatable it feels like one of those 2am existentialist conversations that leaves you exhausted and energized, melancholy but hopeful all at once. I am insisting that everyone I know read this book.
—
Heather
Description
---
Hailed by Lena Dunham as an "essential (and hilarious) voice for women," Lindy West is ferociously witty and outspoken, tackling topics as varied as pop culture, social justice, and body image. Her empowering work has garnered a coast-to-coast audience that eagerly awaits Shrill, her highly anticipated literary debut.West has rocked readers in work published everywhere from the Guardian to GQ to This American Life. She is a catalyst for a national conversation in a world where not all stories are created equal and not every body is treated with equal respect. Shrill is comprised of a series of essays that bravely shares her life, including her transition from quiet to feminist-out-loud, coming of age in a popular culture that is hostile to women (especially fat, funny women) and how keeping quiet is not an option for any of us.