Goddess: The Secret Lives of Marilyn Monroe (Paperback)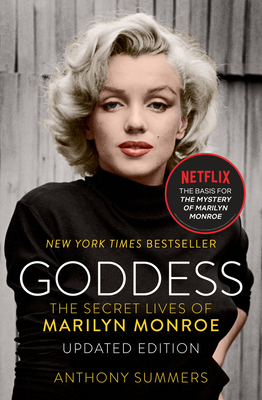 Description
---
The updated bestselling biography—based on over six hundred interviews—and the inspiration for the Netflix documentary, The Mystery of Marilyn Monroe.

Marilyn Monroe, born in obscurity and deprivation, became an actress and legend of the twentieth century, romantically linked to famous men from Joe DiMaggio to Arthur Miller to John F. Kennedy. But her tragic death at a young age, under suspicious circumstances, left behind a mystery that remains unsolved to this day.

Anthony Summers interviewed more than six hundred people, laying bare the truths—sometimes funny, often sad—about this brilliant, troubled woman. The first to gain access to the files of Monroe's last psychiatrist, Summers uses the documents to explain her tangled psyche and her dangerous addiction to medications. He establishes, after years of mere rumor, that President Kennedy and his brother Robert were both intimately involved with Monroe in life—and in covering up the circumstances of her death.

Written and updated by a Pulitzer Prize nominee who has authored works on JFK, J. Edgar Hoover, and the 9/11 attacks, this investigation of an iconic star's brief life and early death is "remarkable. . . . The ghost of Marilyn Monroe cries out in these pages" (The New York Times). Netflix's The Mystery of Marilyn Monroe will cement this work as the definitive biography of the unforgettable woman.
About the Author
---
Anthony Summers is the bestselling author of eight works of nonfiction. His investigative books include Not in Your Lifetime, the critically acclaimed account of the assassination of John F. Kennedy; Official and Confidential: The Secret Life of J. Edgar Hoover; Goddess, a biography of Marilyn Monroe; and most recently The Eleventh Day, on the 9/11 attacks—a finalist for the 2012 Pulitzer Prize for History.
Praise For…
---
"A remarkable performance . . . The ghost of Marilyn Monroe cries out in these pages." —The New York Times  "Convincing evidence of a crude but effective cover-up which was designed to protect Robert Kennedy." —The Times Literary Supplement 
"I knew and admired Marilyn's husband Arthur Miller. . . . [Marilyn] was a classic example of borderline personality disorder, filled with despair, terror, and rage . . . an eternal damaged child. . . . She was a genius, a sorceress who could stimulate the world's sexuality and still seem innocent, turn on a light and become 'Marilyn Monroe.' And she has become eternal. This is the most believable, useful book of all the books about her." —Harvey Wasserman, former professor of psychiatry, Yale University College of Medicine