Lynched: The Power of Memory in a Culture of Terror (Paperback)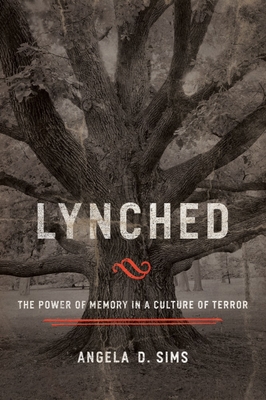 Description
---
Lynched chronicles the history and aftermath of lynching in America. By rooting her work in oral histories, Angela D. Sims gives voice to the memories of African American elders who remember lynching not only as individual acts but as a culture of violence, domination, and fear.
Lynched
preserves memory even while it provides an analysis of the meaning of those memories. Sims examines the relationship between lynching and the interconnected realities of race, gender, class, and other social fragmentations that ultimately shape a person's--and a community's--religious self-understanding. Through this understanding, she explores how the narrators reconcile their personal and communal memory of lynching with their lived Christian experience. Moreover, Sims unearths the community's truth that this is sometimes a story of words and at other times a story of silence. Revealing the bond between memory and moral formation, Sims discovers the courage and hope inherent in the power of recall. By tending to the words of these witnesses,
Lynched
exposes not only a culture of fear and violence but the practice of story and memory, as well as the narrative of hope within a renewed possibility for justice.
About the Author
---
Angela D. Sims is President of Colgate Rochester Crozer Divinity School.