The Problem with Evangelical Theology: Testing the Exegetical Foundations of Calvinism, Dispensationalism, Wesleyanism, and Pentecostalism, Revised an (Hardcover)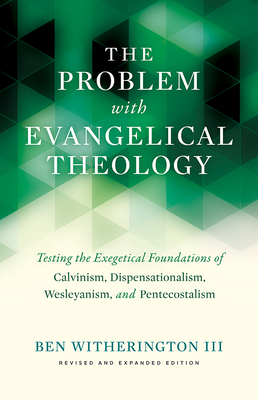 Description
---
There is no doubting the legacy of Protestant Reformers and their successors. Luther, Calvin, and Wesley not only spawned specific denominational traditions, but their writings have been instrumental in forging a broadly embraced evangelical theology as well. Ben Witherington wrestles with some of the big ideas of these major traditional theological systems (sin, God's sovereignty, prophecy, grace, and the Holy Spirit), asking tough questions about their biblical foundations. Advocating a return to Protestantism's sola scriptura roots, Witherington argues that evangelicalism sometimes wrongly assumes a biblical warrant for some of its more popular beliefs.
Witherington pushes the reader to engage the larger story and plot of the Bible in order to understand the crucial theological elements of Protestant belief. The Problem with Evangelical Theology casts today's evangelical belief and practice--be it Calvinistic, Wesleyan, Dispensational, or Pentecostal--in the light of its scriptural origins. Witherington offers a comprehensive description of evangelical theology while concurrently providing an insistent corrective to its departures from both tradition and text.
About the Author
---
Ben Witherington III is Professor of New Testament for Doctoral Studies, Asbury Theological Seminary. His publications include Troubled Waters: Rethinking the Theology of Baptism (2007), Making a Meal of It: Rethinking the Theology of the Lord's Supper (2007), The Living Word of God: Rethinking the Theology of the Bible (2007), and What's in the Word: Rethinking the Socio-Rhetorical Character of the New Testament (2009).