The Wolf Wilder (Hardcover)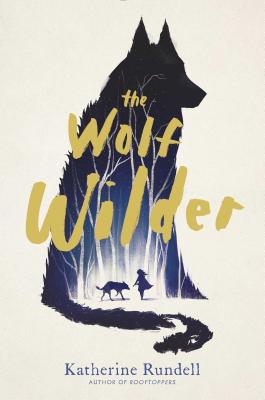 $19.99
Not Available In-Store - Usually Ships from Warehouse in 1-5 Days
Description
---
A girl and the wolves who love her embark on a rescue mission through Russian wilderness in this lyrical tale from the author of the acclaimed Rooftoppers and Cartwheeling in Thunderstorms.

Feo's life is extraordinary. Her mother trains domesticated wolves to be able to fend for themselves in the snowy wilderness of Russia, and Feo is following in her footsteps to become a wolf wilder. She loves taking care of the wolves, especially the three who stay at the house because they refuse to leave Feo, even though they've already been wilded. But not everyone is enamored with the wolves, or with the fact that Feo and her mother are turning them wild. And when her mother is taken captive, Feo must travel through the cold, harsh woods to save her—and learn from her wolves how to survive.

From the author of Rooftoppers, which Booklist called "a glorious adventure," and Cartwheeling in Thunderstorms, which VOYA called "a treasure of a book," comes an enchanting novel about love and resilience.
About the Author
---
Katherine Rundell is the author of Rooftoppers, Cartwheeling in Thunderstorms (a Boston Globe–Horn Book Award winner), The Wolf Wilder, The Explorer, and The Good Thieves. She grew up in Zimbabwe, Brussels, and London, and is currently a Fellow of All Souls College, Oxford. She begins each day with a cartwheel and believes that reading is almost exactly the same as cartwheeling: it turns the world upside down and leaves you breathless. In her spare time, she enjoys walking on tightropes and trespassing on the rooftops of Oxford colleges.
Praise For…
---
"A triumph! Exciting, moving, highly original, fierce, completely convincing. The world had better watch out. I don't really know what a cocked hat is, but you'll be knocking all the rest of us into one soon. I loved the characters, the speed, the force of it all."
— Philip Pullman, author of The Golden Compass

"The hero of Katherine Rundell's new book may be young and small, but Feo has a spirit as wild and dauntless as that of the wolves she cares for. I don't know whether this irresistible force of nature and the colorful gang of waifs drawn to her had an actual hand in starting the Russian Revolution, but Rundell convinced me that they did. The Wolf Wilder is chilling (quite literally!) and thrilling from start to finish."
— Tor Seidler, author of National Book Award finalist Mean Margaret and Firstborn

"[A] future classic...Enchanting, unique and outstanding: don't miss it."
— The Bookseller

"Rugged cross-country adventure with a diverse cast of two- and four-legged fellow travelers and a sturdy main character who is more than a little "wilded" herself."
— Kirkus Reviews

"Rundell gives readers a fierce young heroine whose strength and independence are as appealing and authentic as her painstakingly concealed vulnerabilities...Rundell's strength is in the beauty of her writing—lyrical sentences that evoke the drama and simplicity of fairy- and folklore, combined with descriptions of a setting that will have readers shivering along with the frozen characters as they trudge across the unforgiving terrain."
— School Library Journal

* "Fairy tale and history merge seamlessly; in a land where terror reigns and adults grow numb with fear, a "little wolf girl" outmaneuvers a sadistic general, awes a village, and inspires an army of children to march on St. Petersburg with dreams of justice. Breathtaking."
— Publishers Weekly, starred review

* "Rundell never fails to work magic with language and deft storytelling. Feo's world of wolves and snow, danger and triumphant bravery, rings with the classic allure of folktales. Her spirited, half-wild nature shines brightly on the page, even as her vulnerabilities endear her to readers' hearts."
— Booklist, starred review

* "Will have readers cheering--or perhaps howling--their approval."
— BCCB, starred review