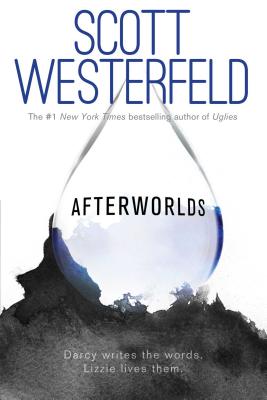 $19.99

Not Available In-Store - Usually Ships from Warehouse in 1-5 Days
Staff Reviews
---
Prepare yourself to be taken on two journeys. First, you will be captured by the edge-of-your-seat opening chapter in Afterworlds--about a girl who can navigate the thin line between reality and the afterworld. In the alternating chapters, you are taken behind the words and into the mind of the "author". I've always thought it would be cool to jump into a novel and meet the characters, but I never thought how cool it would be to jump into the mind of an author while she is writing her first, soon to be published, novel! While this is an amazing book to read just for the sake of reading, it's especially fun for readers who want to become authors themselves. Afterworlds is the tangible answer to "What advice would you give to a new author?"
—
BRANDI'S STAFF PICKS
Description
---
From the #1 New York Times bestselling author Scott Westerfeld comes a smart, thought-provoking novel-within-a-novel that you won't be able to put down.

Darcy Patel has put college on hold to publish her teen novel, Afterworlds. With a contract in hand, she arrives in New York City with no apartment, no friends, and all the wrong clothes. But lucky for Darcy, she's taken under the wings of other seasoned and fledgling writers who help her navigate the city and the world of writing and publishing. Over the course of a year, Darcy finishes her book, faces critique, and falls in love.

Woven into Darcy's personal story is her novel, Afterworlds, a suspenseful thriller about a teen who slips into the "Afterworld" to survive a terrorist attack. The Afterworld is a place between the living and the dead, and where many unsolved—and terrifying—stories need to be reconciled. Like Darcy, Lizzie too falls in love…until a new threat resurfaces, and her special gifts may not be enough to protect those she cares about most.
About the Author
---
Scott Westerfeld is the author of the Leviathan series, the first book of which was the winner of the 2010 Locus Award for Best Young Adult Fiction. His other novels include the New York Times bestseller Afterworlds, the worldwide bestselling Uglies series, The Last Days, Peeps, So Yesterday, and the Midnighters trilogy. Visit him at ScottWesterfeld.com or follow him on Twitter at @ScottWesterfeld.
Praise For…
---
*STARRED REVIEW* Eighteen-year-old Darcy drops her college plans and moves to New York to revise her soon-to-bepublished novel and start the second one. Meanwhile, in chapters that alternate with Darcy's NYC adventures, her fictional protagonist, Lizzie, survives a near-death experience to find she has become a psychopomp, responsible for guiding souls to the afterlife. Westerfeld masterfully creates two divergent reading experiences (YA romance and fantasy horror) with two distinct yet believable voices in Darcy and Lizzie—and, somehow, makes them mesh into one cohesive novel. In addition to the details of the fully realized story worlds—and that's worlds plural, as this is a busy book, with content drawn from Gujarati culture and Indian religion—this book includes romantic entanglements, a charming lesbian love story, terrorism and justice, and insider references to the YA publishing and literature scene (including several references to the Michael L. Printz Award) that will have librarians grinning in delight. Westerfeld deftly and subtly captures Darcy's immature authorial voice, even including a few underdeveloped plot points that differentiate it from his own polished prose. There are no notes about cultural sources, but an extended conversation between (fictional) YA authors explores these issues, offering a few perspectives on respect and appropriateness. Get plenty; this one won't stay on the shelves. HIGH-DEMAND BACKSTORY: Westerfeld, author of the hugely popular Uglies and Leviathan series, goes meta in a big way (this thing is the size of an anvil). Expect tons of YA-world gabbing and gushing.
— July 2014

During National Novel Writing Month, Darcy Patel, 18, pounds out a "Hindu paranormal romance" that earns her an advance hefty enough to fund a college education. Alas, Darcy has other ideas, moving to Manhattan to do rewrites and deferring admission to Oberlin. What follows are two stories, told in alternating chapters: Darcy's path to publication, and the final draft of the book she wrote, also titled Afterworlds. Darcy's new experiences inform her revision: falling in love for the first time makes her rethink the romance in her book. Her protagonist Lizzie's story is more explosive, beginning with a terrorist attack that she survives by so thoroughly pretending to be dead that she slips into a ghost world, where she meets Yamaraj, a hunky "soul guide." The back-and-forth between Darcy's story and her thriller is dizzying, but "Reading Zealots" like the kids Darcy hung with in high school will love the insider details about the YA writer's life—the intimidating editorial letter, attending BEA (Darcy naively brings her own canvas tote). An ambitious concept, well executed. Ages 14–up. Agent: Jill Grinberg, Jill Grinberg Literary Management. (Sept.)
— Publishers Weekly, 6/30/14 *STARRED

"A masterful accomplishment . . . unmistakably Westerfeld, in full command of a
prodigious talent, doing something complicated and difficult and
making it look easy, even as it grabs you and drags you through its
dark streets, laughing and crying along with both Darcy and Lizzie."
— Cory Doctorow