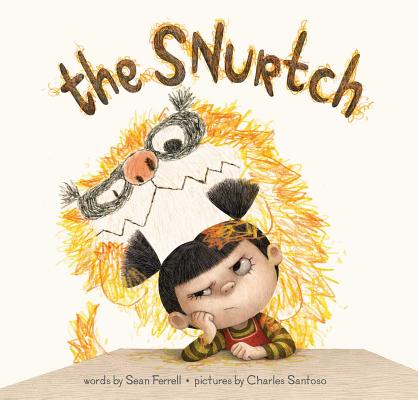 Staff Reviews
---
If you're ever jealous, impatient, or rude -- if you ever let your temper run away with you, or say the wrong thing before you can stop yourself -- then you will immediately recognize THE SNURTCH. Ruthie's Snurtch is waiting for her every day when she arrives at school. He is a scribbly mess of flaming orange spikes, with an all-too-familiar nose and miniature pigtails. Over and over Ruthie is seized by the Snurtch's whims, and finds herself ostracized by her classmates. Ferrell and Santoso brilliantly portray Ruthie's desperation to be understood. So how do you beat your own personal Snurtch? Keep reading -- the final two pages resonate no matter your age.
—
Emmy
Description
---
Some days are Snurtch days. Ruthie is having one of those. Ruthie has a problem at school. It is not the students. It is not the classroom. It is not the reading or the writing or the math. It is something scribbly, scrunchy, grabby, burpy, and rude. It is the Snurtch. From the team behind I Don't Like Koala, this clever picture book takes a discerning look at the challenges of behaving and controlling your emotions--especially when your own personal monster keeps getting in the way.
About the Author
---
Sean Ferrell distracts his Snurtch with chicken wings and then writes novels and picture books. He also thinks his Snurtch types things when he's not around belch pig waffle car purple squirrel. Visit Sean online at SeanFerrell.com. Charles Santoso has two Snurtches. One bugs him when he works on picture books, and the other keeps pulling his hair while he creates illustrations for animated feature films. They're generally pretty nice after being given a sip of hot green tea. You can visit Charles at CharlesSantoso.com.