The Pros & Cons of Being a Frog (Hardcover)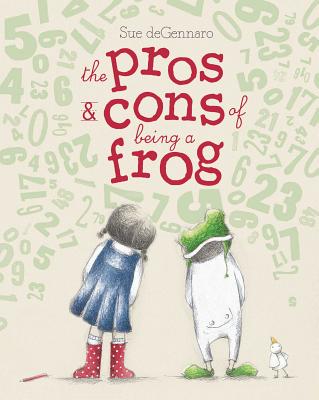 $17.99
Not Available In-Store - Usually Ships from Warehouse in 1-5 Days
Staff Reviews
---
This brilliant little picture book made my entire day when I first read it and I can't stop talking about it. It tells the story of a shy little boy who wears costumes to feel brave but can't quite find the right costume. Along comes Camille on the day he's been chased by a dog while wearing a cat costume and helps him find the perfect costume: a frog. Camille is a little different too, she loves math so much that sometimes she only speaks in numbers; 23 is yes, 17 is no, and he knows it's time for lunch when she starts singing her 6 times tables. This book is perfect for any kid who feels a little different or shy and especially great for kids who may be on the Autism spectrum.
—
Heather
Description
---
"This celebration of differences displays great respect for readers' intelligence and yields more with each reading. --Kirkus Reviews (starred review) Two shy kids discover the power of friendship in this charming picture book that celebrates being different. A boy likes to dress as a cat, but his best friend's dog objects. What will he dress as now? A giraffe? A fox? A shark? When his best friend, Camille, suggests a frog, they work together to make the frog costume...until Camille runs out of patience. So the boy makes a list of the pros and cons of being a frog: Pros:
1. My friend Camille gave me the idea
2. I'm less likely to be chased by a dog
3. Being in a frog costume makes me feel brave Cons:
1. Not everyone loves wearing a frog costume as much as me
2. If you start getting bossy about your frog costume then your friend will get up and leave
3. A frog is NOT a solitary creature so it is no fun for a frog if his friend gets up and leaves Luckily, he won't have to choose, because true friendship means accepting each other's differences: he can be himself and have his friend Camille.