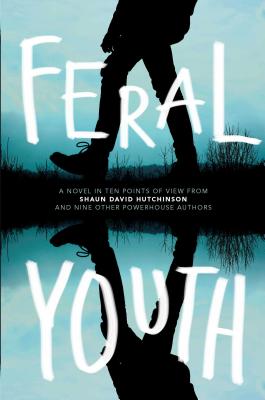 $17.99

Special Order - Subject to Availability
Description
---
Ten teens are left alone in the wilderness during a three-day survival test in this multi-authored novel edited by award-winning author Shaun David Hutchinson.

At Zeppelin Bend, an outdoor-education program designed to teach troubled youth the value of hard work, cooperation, and compassion, ten teens are left alone in the wild. The teens are a diverse group who come all walks of life, and were all sent to Zeppelin Bend as a last chance to get them to turn their lives around. They've just spent nearly two weeks hiking, working, learning to survive in the wilderness, and now their instructors have dropped them off eighteen miles from camp with no food, no water, and only their packs, and they'll have to struggle to overcome their vast differences if they hope to survive.

Inspired by The Canterbury Tales, the characters in Feral Youth, each complex and damaged in their own ways, are enticed to tell a story (or two) with the promise of a cash prize. The stories range from noir-inspired revenge tales to mythological stories of fierce heroines and angry gods. And while few of the stories are claimed to be based in truth, they ultimately reveal more about the teller than the truth ever could.
About the Author
---
Shaun David Hutchinson is the author of numerous books for young adults, including The Past and Other Things That Should Stay Buried, The Apocalypse of Elena Mendoza, At the Edge of the Universe, and We Are the Ants. He also edited the anthologies Violent Ends and Feral Youth and wrote the memoir Brave Face, which chronicles his struggles with depression and coming out during his teenage years. He lives in Seattle, where he enjoys drinking coffee, yelling at the TV, and eating cake. Visit him at ShaunDavidHutchinson.com or on Twitter @ShaunieDarko.

Suzanne Young is the New York Times bestselling author of The Program series. Originally from Utica, New York, Suzanne moved to Arizona to pursue her dream of not freezing to death. She is a novelist and an English teacher, but not always in that order. Suzanne is also the author of Girls with Sharp Sticks, All in Pieces, Hotel for the Lost, and several other novels for teens. Visit her online at AuthorSuzanneYoung.com or follow her on Instagram at @AuthorSuzanneYoung.

Tim Floreen majored in English at Yale and earned a Master's degree in creative writing at Boston University. He now lives in San Francisco with his partner and their two cats. Willful Machines is his first novel. You can find him online at TimFloreen.com or on Twitter at @TimFloreen.

Alaya Dawn Johnson is the author of six novels for adults and young adults. Her novel The Summer Prince was longlisted for the National Book Award for Young People's Literature. Her most recent, Love Is the Drug, won the Andre Norton Award. Her short stories have appeared in many magazines and anthologies, including Asimov's, Fantasy & Science Fiction, Interzone, Subterranean, Zombies vs. Unicorns, and Welcome to Bordertown. In addition to the Norton, she has won the Cybils and Nebula Awards and been nominated for the Indies Choice Award and Locus Award. She lives in Mexico City.

Justina Ireland enjoys dark chocolate, dark humor, and is not too proud to admit that she's still afraid of the dark. She lives with her husband, kid, and dog in Pennsylvania. She is the author of Vengeance Bound and Promise of Shadows. Visit her at JustinaIreland.com.
Praise For…
---
"A compelling examination of the teen psyche." –Booklist, starred review

"From the first sentence, collection editor Hutchinson grabs readers… A compelling, uncomfortable narrative." –Kirkus Reviews

"Though the voices are distinct, it's the overall experience of disparate people finding common understanding that lingers." –Publishers Weekly

"Edgy stories showcase the depth and breadth of styles in a new crop of writers for young adults." –School Library Journal