This Mortal Coil (Hardcover)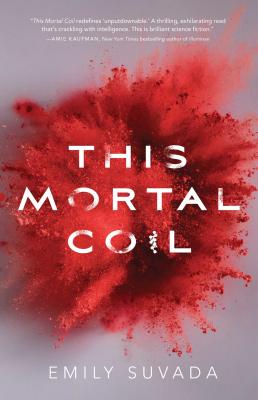 Staff Reviews
---
"When we have shuffled off this mortal coil,/Must give us pause"…and here is another Hamlet-esque story of burden and identity. A virus has taken over the world; it causes spontaneous combustion and the only known immunity is to eat the flesh of the affected fallen before the explosion of red mist. Catarina is a gifted hacker determined to find and retrieve her hostage father from Cartaxus, a large organization that is believed to be withholding a vaccine. Set in an age of gene hacking, DNA mods and upgrades through implants, the tech is radical and formidable and the story speeds forward with non-stop explosive action amidst writing as piercing as shrapnel.
— From
Leah's Picks (page 1)
Description
---
In this gripping debut novel, seventeen-year-old Cat must use her gene-hacking skills to decode her late father's message concealing a vaccine to a horrifying plague. Catarina Agatta is a hacker. She can cripple mainframes and crash through firewalls, but that's not what makes her special. In Cat's world, people are implanted with technology to recode their DNA, allowing them to change their bodies in any way they want. And Cat happens to be a gene-hacking genius. That's no surprise, since Cat's father is Dr. Lachlan Agatta, a legendary geneticist who may be the last hope for defeating a plague that has brought humanity to the brink of extinction. But during the outbreak, Lachlan was kidnapped by a shadowy organization called Cartaxus, leaving Cat to survive the last two years on her own. When a Cartaxus soldier, Cole, arrives with news that her father has been killed, Cat's instincts tell her it's just another Cartaxus lie. But Cole also brings a message: before Lachlan died, he managed to create a vaccine, and Cole needs Cat's help to release it and save the human race. Now Cat must decide who she can trust: The soldier with secrets of his own? The father who made her promise to hide from Cartaxus at all costs? In a world where nature itself can be rewritten, how much can she even trust herself?