Annihilation (Southern Reach Trilogy #1) (MP3 CD)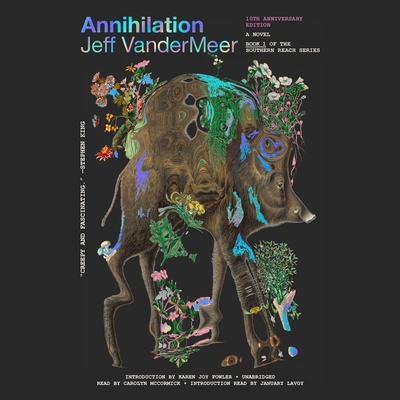 $29.95
Special Order - Subject to Availability
Staff Reviews
---
Living up to its namesake, Annihilation, this novel is permeated by a sense of dread. An expedition of 4 scientists travel to Area X—long isolated from the rest of the continent after some type of environmental Event, or something peculiar, happened there. After every expedition before has ended in a shroud of mystery, from mass suicides to others returning vastly changed, this story follows the biologist of the 12th expedition. Shortly after crossing the border into Area X, her team finds a mysterious structure buried in the landscape that was not in any of their maps or other briefing materials. A mysterious and existential plot within, this novel contains great nods to the likes of H.P. Lovecraft and Stanley Kubrick along with the intense pacing of television dramas like LOST. Just enough is revealed about Area X in this first installment of the trilogy that I am very excited to learn more in forthcoming installments all to be released this year.
—
Jeremy's Staff Picks
Description
---
If J. J. Abrams, Margaret Atwood, and Alan Weisman collaborated on a novel ... it might be this awesome. Area X has been cut off from the rest of the continent for decades. Nature has reclaimed the last vestiges of human civilization. The first expedition returned with reports of a pristine, Edenic landscape; all the members of the second expedition committed suicide; the third expedition died in a hail of gunfire as its members turned on one another; the members of the eleventh expedition returned as shadows of their former selves, and within months of their return, all had died of aggressive cancer. This is the twelfth expedition. Their group is made up of four women: an anthropologist, a surveyor, a psychologist--the de facto leader--and a biologist, who is our narrator. Their mission is to map the terrain and collect specimens; to record all their observations, scientific and otherwise, of their surroundings and of one another; and, above all, to avoid being contaminated by Area X itself. They arrive expecting the unexpected, and Area X delivers--they discover a massive topographic anomaly and life-forms that surpass understanding--but it's the surprises that came across the border with them and the secrets the expedition members are keeping from one another that change everything.