The Golem and the Jinni (Compact Disc)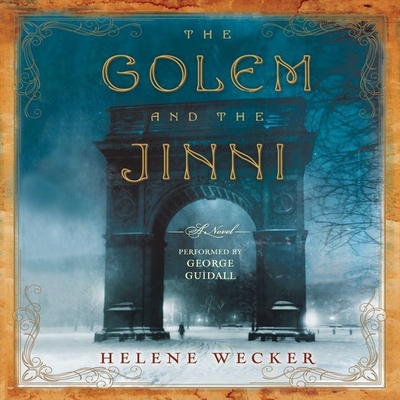 $89.99
Special Order - Subject to Availability
Staff Reviews
---
Have you ever read a book that was so good you didn't want it to end? That is how I felt about The Golem and the Jinni. I read each page, at once entranced by the amazing story and well-written characters, while also saddened that each page brought me closer to the end. Wecker weaves together a beautiful story, full of complex and interesting characters, poignant moments, inner struggle, and one of the most perfect endings I've ever read. She expertly blends the realms of magic and imagination with the world of turn-of-the-century New York City. Perfect for lovers of imaginative fiction, or anyone who enjoys a good story, The Golem and the Jinni will not disappoint.
—
JESSIE'S STAFF PICKS
A woman fashioned from mud by a Jewish magician and a jinni under a spell who can only access a fraction of his natural powers--each of these fantastical but believable creatures must find themselves a way to survive in New York City--she among the Orthodox Jews, he among the Muslim immigrant community. At the start, their stories are told in parallel narratives, but there's no doubt that the threads will connect and intertwine before too long. A totally absorbing tale of alienation, compassion, frustration, suspense, and romance. Enhanced by a memorable cast of supporting actors, we are given deep insights into the Islamic and Judaic traditions plus a helluva good read.
—
BOB'S STAFF PICKS
May 2013 Indie Next List
---
""
— Nick Petrulakis, Books Inc., Alameda, CA
Description
---
Helene Wecker's dazzling debut novel tells the story of two supernatural creatures who appear mysteriously in 1899 New York. Chava is a golem, a creature made of clay, brought to life by a strange man who dabbles in dark Kabbalistic magic. When her master dies at sea on the voyage from Poland, she is unmoored and adrift as the ship arrives in New York Harbor. Ahmad is a jinni, a being of fire, born in the ancient Syrian Desert. Trapped in an old copper flask by a Bedouin wizard centuries ago, he is released accidentally by a tinsmith in a Lower Manhattan shop.
Struggling to make their way in this strange new place, the Golem and the Jinni try to fit in with their neighbors while masking their true natures. Surrounding them is a community of immigrants: the coffeehouse owner Maryam Faddoul, a pillar of wisdom and support for her Syrian neighbors; the solitary ice cream maker Saleh, a damaged man cursed by tragedy; the kind and caring Rabbi Meyer and his beleaguered nephew, Michael, whose Sheltering House receives newly arrived Jewish men; the adventurous young socialite Sophia Winston; and the enigmatic Joseph Schall, a dangerous man driven by ferocious ambition and esoteric wisdom.
Meeting by chance, the two creatures become unlikely friends whose tenuous attachment challenges their opposing natures, until the night a terrifying incident drives them back into their separate worlds. But a powerful menace will soon bring the Golem and the Jinni together again, threatening their existence and forcing them to make a fateful choice.
Marvelous and compulsively readable, The Golem and the Jinni weaves strands of folk mythology, historical fiction, and magical fable into a wondrously inventive and unforgettable tale.