The Heroes of Olympus Hardcover Boxed Set (Hardcover)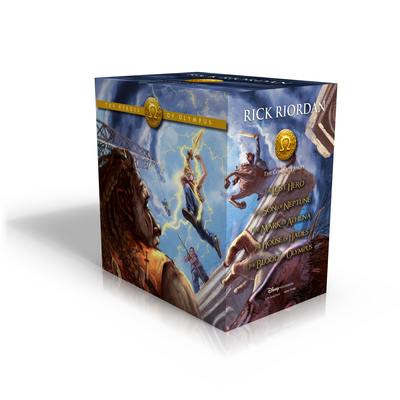 $99.95
Email or call for price.
Description
---
All five books in the #1 New York Times best-selling Heroes of Olympus series in a hardcover boxed set of heroic proportions.
"Readers longing for a return to Camp Half-Blood will get their wish.... ...the action scenes come frequently as the three heroic teens fight monstrous enemies in North American locales..... Flashes of humor lighten the mood at times, but a tone of urgency and imminent danger seems as integral to this series as the last. With appealing new characters within a familiar framework, this spin-off will satisfy the demand for more." —
Booklist
Follows the Percy Jackson and the Olympians series but also stands on its own
Millions of copies sold the world over
Five hardcovers in a specially designed slipcase
Combines Greek and Roman mythology
Teen demigods travel across the US and to Europe as they uncover mysteries and battle monsters and gods
Told from the point of view of seven different diverse and relatable characters
Fast-paced, action-packed adventures narrated with humor and heart
Ideal for middle schoolers but can be enjoyed by older readers, too
Here is a gift-worthy set of five hardcovers, from
The Lost Hero
to
The Blood of Olympus,
for
fans
of Percy Jackson or anyone who enjoys funny and exciting quest adventures based on mythology. No Rick Riordan collection is complete without it!
About the Author
---
Rick Riordan, dubbed "storyteller of the gods" by Publishers Weekly, is the author of five #1 New York Times best-selling middle grade series with millions of copies sold throughout the world: Percy Jackson and the Olympians, The Heroes of Olympus, and the Trials of Apollo, based on Greek and Roman mythology; the Kane Chronicles, based on Ancient Egyptian mythology; and Magnus Chase and the Gods of Asgard, based on Norse mythology. Rick collaborated with illustrator John Rocco on two #1 New York Times best-selling collections of Greek myths for the whole family: Percy Jackson's Greek Gods and Percy Jackson's Greek Heroes. Rick is also the publisher of an imprint at Disney-Hyperion, Rick Riordan Presents, dedicated to finding other authors of highly entertaining fiction based on world cultures and mythologies. He lives in Boston, Massachusetts with his wife and two sons. Follow him on Twitter at @RickRiordan.
Praise For…
---
PRAISE FOR THE HOUSE OF HADES

"Fans won't be disappointed as the cliff-hanger ending from the previous book, The Mark of Athena, leads to further exciting adventures by the intrepid demigods. . . As Annabeth and Percy struggle to survive Tantarus's poisonous atmosphere and creatures, the other demigods must undergo harsh trials. . . but they learn and grow mentally and physically from their experiences. The heroes realize that they cannot change their parentage but they can control their legacy. Fans will be thrilled to know the series continues with The Blood of Olympus in 2014."—<EM>School Library Journal</EM>

PRAISE FOR THE HOUSE OF HADES

"In this adventure, victories are hard-won and the essence of bravery nuanced, making the journey as satisfying as it is entertaining."—<EM>Kirkus Reviews</EM>

PRAISE FOR THE LOST HERO

"Readers longing for a return to Camp Half-Blood will get their wish.... ...the action scenes come frequently as the three heroic teens fight monstrous enemies in North American locales..... Flashes of humor lighten the mood at times, but a tone of urgency and imminent danger seems as integral to this series as the last. With appealing new characters within a familiar framework, this spin-off will satisfy the demand for more."
—<EM>Booklist</EM>

PRAISE FOR THE MARK OF ATHENA

"With a true storyteller's sense of pacing, Riordan creates another compelling adventure, right down to the cliff-hanger at the end. Stay tuned for volume four."—<EM>Booklist</EM>

PRAISE FOR THE SON OF NEPTUNE

"Should pacing and wit continue unabated into the third volume, whose foretold European setting promises further freshness, fans will eagerly await numbers four and five."—<EM>Kirkus Reviews</EM>