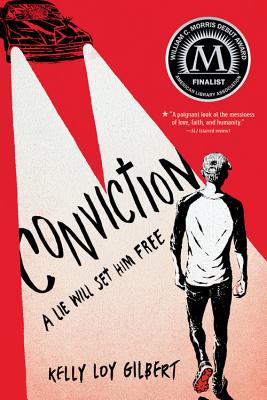 $9.99

Special Order - Subject to Availability
Staff Reviews
---
It's very hard for me to believe that Conviction is Kelly Loy Gilbert's first novel, simply because it is so gorgeously written. The language was easy to get lost in, and helped to weave a story about familial relationships, loyalty, and faith. Braden Raynor's conviction in God is tested while his father is facing jail time after an accident that leaves a police officer dead. The subsequent trial serves as a backdrop for Gilbert's characters to stand out against. In the wake of this trial, the characters are shown to be complex, flawed, and ultimately human. It's clear by the way that she writes that Gilbert has a phenomenal understanding of people and the way they behave; these are the kinds of characters that will stay in your memory long after you've finished this novel.
—
Heather H.
Description
---
A teenage boy faces an impossible choice in this brutally honest debut novel about family, faith, and the ultimate test of conviction, that was the winner of the Children's Choice Book Awards' Teen Choice Debut Author Award.

Ten years ago, Braden was given a sign—a promise that his family wouldn't fall apart the way he feared. But Braden got it wrong: his older brother, Trey, has been estranged from the family for almost as long, and his father, the only parent Braden has ever known, has been accused of murder. The arrest of Braden's father, a well-known Christian radio host, has sparked national media attention. His fate lies in his son's hands; Braden is the key witness in his father's upcoming trial.

Braden has always measured himself through baseball. He is the star pitcher in his small town of Ornette, and his ninety-four mile per hour pitch already has minor league scouts buzzing in his junior year. Now the rules of the sport that has always been Braden's saving grace are blurred in ways he never realized, and the prospect of playing against Alex Reyes, the nephew of the police officer his father is accused of killing, is haunting his every pitch. 
 
About the Author
---
Kelly Loy Gilbert believes deeply in the power of stories to illuminate a shared humanity and give voice to complex, broken people. She is the author of Conviction, a William C. Morris Award finalist, and lives in the SF Bay Area. She invites you to visit her on Twitter @KellyLoyGilbert or at KellyLoyGilbert.com. 
Praise For…
---
* "A poignant look at the messiness of love, faith, and humanity."—School Library Journal

*"Gilbert respectfully and sensitively handles themes of faith, religion, and family [a] moving debut."—Booklist

*"There are no easy answers. Love is both beautiful and cruel. God is both loving and mysterious. And family is both comforting and suffocating. Both hopeful and devastatingly real."—Kirkus Reviews