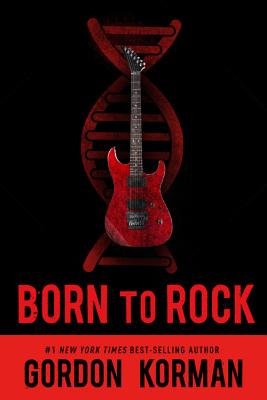 $8.99

Special Order - Subject to Availability
Description
---
A Punk Rock Road Trip for the ages from New York Times bestselling author Gordon Korman

Leo Caraway, president of the Young Republicans club, future Harvard student, has his life all mapped out. That is, until he discovers his biological father is the notorious King Maggot, the lead singer of Purge, the most popular and destructive punk rock band in history.

Not only is Leo not a punk rock fan, but he believes the Maggot blood in his veins is a dangerous time bomb just waiting to explode. And sure enough it does-when Leo stubbornly defends the unlikeliest of people, thereby getting himself falsely accused of cheating on a test.

Because of the blemish on his record, the once-star pupil finds his scholarship to Harvard taken away. So he accepts a job as a roadie with Purge's summer revival tour, all the while secretly hoping to convince Maggot to pay for his tuition. But life on the road is even crazier than Leo bargained for, and before the summer is out, he will finally discover the surprising truth about his dad, his friends, and most important, himself.
 
About the Author
---
Gordon Korman wrote his first book at age fourteen and since then has written more than eighty middle grade and teen novels. His favorites include the New York Times bestselling The 39 Clues: Cahills vs. Vespers, Book One: The Medusa Plot; Ungifted; Pop; and Schooled. Gordon lives with his family on Long Island, New York. He invites you to visit him online at GordonKorman.com.
Praise For…
---
* "This one . . . has the goods to go platinum."—
Publishers Weekly, starred review
* "Another wild, funny adventure from Korman, who knows how to please his YA audience."—
Kliatt, starred review
"Laugh-out-loud funny, honest, hot and sweet."—
Kirkus ReviewsPRAISE FOR JAKE, REINVENTED
"A compelling investigation of the transience of charisma and the flimsy underpinnings of popularity."
—
Bulletin of the Center for Children's BooksPRAISE FOR JAKE, REINVENTED
"Korman's reworking of The Great Gatsby places the action in a modern framework, which makes it more recognizable for today's readers and may lead them to the classic. Teens will find deeper issues to consider about popularity, being true to one's self, and taking responsibility for one's actions as they relate to the setting and characters."
—
BooklistPRAISE FOR THE JUVIE THREE
An ALSCA Notable Book, 2009
PRAISE FOR THE JUVIE THREE
* "[T]hese kids are living minute to minute, where one false step may haunt them forever. . . . [B]e prepared for high demand."
—
Booklist, starred reviewPRAISE FOR THE JUVIE THREE
* "There's lots to relish here."
—
Kliatt, starred reviewPRAISE FOR THE JUVIE THREE
"This novel is signature Korman."
—
School Library JournalPRAISE FOR SON OF THE MOB
An ALA Top Ten Best Book for Young Adults
An ALA Top Ten Quick Pick for Reluctant Readers
A Chicago Public Library Best Book of the Year
PRAISE FOR SON OF THE MOB
"A fast-paced, tightly focused story."
—
The Horn BookPRAISE FOR SON OF THE MOB
"[An] expertly plotted escapade."
—
BooklistPRAISE FOR SON OF THE MOB
"Funny and unexpectedly affecting."
—
Publishers Weekly