The Kaboom Kid: The Big Time & Home and Away (MP3 CD)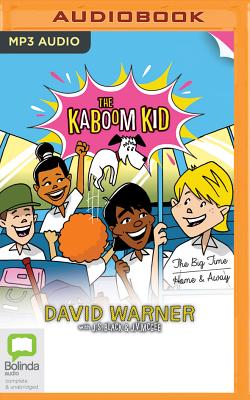 $9.99

Special Order - Subject to Availability
Description
---
The Big Time
Happy days Davey Warner, Sunil Deep, and Tay Tui have been selected to play for the South East school rep team, the South East Slammers. It's a dream come true, even if Mr. Perfect, Josh Jarrett from Shimmer Bay under 12s, is named captain.
Training for the rep side is twice a week, no excuses and no exceptions. Davey, Sunil, and Tay would go fourteen times a week, especially if it meant they could miss out on class with old Mr. Mudge. The only problem is that rep training clashes with Max's doggy school--Davey promised his mum he'd take his cheeky foxie to amend for eating all of 6M's homework.
How can Davey keep his promise to his mum to train Max and play for the South East Slammers? And how can his other friends help out so Davey can live his dream? And why is Mo Clouter looking so pleased with himself? And will Max EVER behave himself?
Home and Away
Davey and his friends in the South East Slammers rep team travel to the country for the weekend for a match against the dreaded North-West Whackers.
But not only is their cranky Year 6 teacher, Mr. Mudge, chaperoning the team, school bully Mo Clouter and his band of buffoons have suspiciously joined the cheerleading team for the away game.
Then Davey discovers that Max, his cheeky fox terrier, has stowed away on the bus, and no motel will put them up with a stinky hound in tow, so they are forced to camp in a nearby paddock. Tents are torn, Max eats all the food, and someone is snoring so loudly that no one gets any sleep....