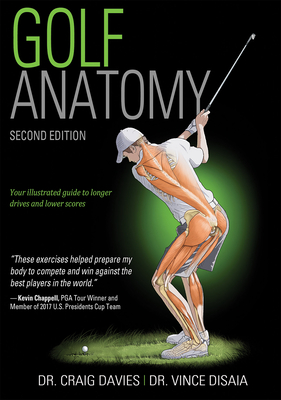 $24.95

Not Available In-Store - Usually Ships from Warehouse in 1-5 Days
Description
---
See what it takes to improve consistency and performance in your golf game as you never have before. The second edition of Golf Anatomy provides updated and improved exercises, more artwork, and a more complete way to build a golf fitness program. This one-of-a-kind guide, developed over 15 years of working with professional golfers, will show you how to lower your score by increasing strength, power, and range of motion for longer drives and more accurate shots.
Golf Anatomy, Second Edition, includes 72 exercises, each with step-by-step descriptions and full-color anatomy illustrations highlighting the muscles in action. You will see how to improve mobility, stability, balance and body awareness, and muscle strength and power to add distance to drives, consistency to your short game, and accuracy to your putts.
From sand traps to awkward lies, Golf Anatomy will prepare you for even the most challenging shots. You'll learn the keys to an effective warm-up, train for the full golf swing, and see sample programming used by PGA and LPGA professionals themselves.
Combining expert instruction with beautiful, full-color illustrations, Golf Anatomy is truly an inside look into the game. Whether you're a scratch golfer or simply a fan of the game, this book is a hole in one.
About the Author
---
Craig Davies, DC, is a movement, body mechanics, and strength and conditioning coach on the PGA Tour. He has been a consultant to numerous international golf associations and international PGAs. From 2006 to 2009 he was the director of fitness and nutrition for one of the most successful junior golf academies in the United States.
Davies has had the opportunity to be the keynote speaker at a number of seminars and summits, including the Canadian Golf Performance Summit, the Ontario PGA Professional Development Seminar, and the World Golf Fitness Summit. He has extensive experience and involvement working with international team events, including the Presidents Cup and Ryder Cup. He has a long list of international golfer clients, and his professional golf client list has been a who's who of the tour elite, including such tremendous ball strikers as Kevin Chappell, Justin Rose, Y.E. Yang, Si Woo Kim, Lydia Ko, Gary Woodland, Graham DeLaet, Anthony Kim, Henrik Stenson, Sean O'Hair, Hunter Mahan, and Stephen Ames.
Davies is the president of the DEPTH Systems Institute at the Foley Performance Academy in Orlando, Florida. He provides online education courses for trainers, coaches, and manual therapists at www.DEPTHSystems.com and travels around the world to teach movement enhancement seminars to trainers. His online golf technique and movement instruction can be found at ChampionGolfFitness.com.
Vince DiSaia, DC, is the founder and clinic director at Momentum Functional Health. His goal is to provide all clients with the most comprehensive health strategies to ensure that they optimize health while also performing at their highest level of competitive skill.
DiSaia has been involved in the health and fitness field for more than 15 years. He has continuously studied the most cutting-edge philosophies in health, fitness, and performance. His current postgraduate focus in functional medicine was preceded by his training as a strength trainer, chiropractor, and sports medicine expert. His approach combines optimizing both the physical capabilities of the athlete and the internal health that drives human performance. During his career DiSaia has had the opportunity to work with professional athletes from many different sports and has worked on the PGA and LPGA Tours. He enjoys sharing his knowledge with his colleagues and has previously lectured for doctors, therapists, and strength coaches on topics such as lower back pain, running injuries, golf swing biomechanics, golf fitness, and performance through health optimization. His online golf technique and movement instruction can be found at ChampionGolfFitness.com. DiSaia works with clients both in person and online, creating customized programs to help people achieve a life filled with supreme health and vitality.
Praise For…
---
"Dr. Craig Davies' knowledge of the human body as well as golf has helped him create exercises that the best players in the world use every day! With Golf Anatomy you can do them too!"
Chez Reavie—PGA Tour Professional
"Dr. Davies helped me gain distance off the tee and play great golf all year around. In Golf Anatomy he shares his expertise to improve your game as well."
Byeong-Hun (Ben) An—Presidents Cup International Team Member and European Tour Winner
"Doctors Craig Davies and Vince DiSaia are visionaries in the field of optimizing wellness and human performance. The unique holistic approach to conditioning found within Golf Anatomy provides both the athlete and coach the best possible environment to maximize success."
Mark Blackburn—PGA Tour Coach
"Doc (Davies) has given me not only career longevity but also a greater appreciation and knowledge of body movement and overall health. He's the best in the business."
Graham DeLaet—Presidents Cup International Team Member
"The information in Golf Anatomy has helped me maximize my potential. My mobility and strength have improved, on and off the course."
Nick Taylor—PGA Tour Winner
"You'll find many of the exercises I use in Golf Anatomy. They've helped to give me the awareness and control in my body that I need to compete with the best players in the world."
Kevin Chappell—Presidents Cup American Team Member and PGA Tour Winner
"From pregame warm-up to planning a complete training program, there is a roadmap for improvement and success in this book. While the information is extensive, it is all brought into a simple, clear picture for easy personal adaptation in the Program Planning section. This is where every golfer—of any level—can start the appropriate personal plan. This is a great book for anyone interested in improving golf-specific fitness and improving their game. It is also an asset to the general fitness trainer who has golf clients. Teaching pros could use this to help clients adapt to the swing changes they are trying to encourage."
Jim Earley—Avid Golfer and Fitness Advocate