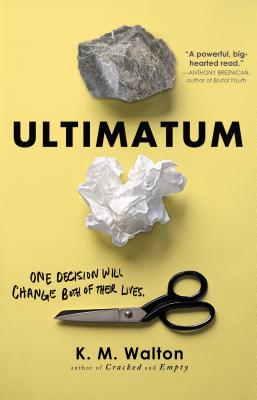 $17.99

Special Order - Subject to Availability
Description
---
From the author of Cracked and Empty comes a gripping, emotional story of two brothers who must make the ultimate decision about what's more important: family or their differences.
It's not Oscar's fault he's misunderstood. Ever since his mother died, he's been disrespected by his father and bullied by his self-absorbed older brother, so he withdraws from his fractured family, seeking refuge in his art.
Vance wishes his younger brother would just loosen up and be cool. It was hard enough to deal with their mother's death without Oscar getting all emotional. At least when Vance pushes himself in lacrosse and parties, he feels alive.
But when their father's alcoholism sends him into liver failure, the two brothers must come face-to-face with their demons—and each other—if they are going to survive a very uncertain future.
About the Author
---
K.M. Walton is the author of Cracked, Empty, and Ultimatum. As a former middle-school teacher, she's passionate about ending bullying, and her powerful presentations have made an impact on thousands. K.M. is a graduate of West Chester University. She lives in Pennsylvania with her husband, two sons, and cat. Visit her at kmwalton.com.
Praise For…
---
"Saturated with emotion . . . a heart-wrenching portrait of a dysfunctional family and its destructive force" —
Publishers Weekly, starred review
"Walton creates flawed, realistic characters that invite readers to root for them" —
Kirkus Reviews
"There are plenty of teen novels in which parents die; however, this is a cut above as its main characters must struggle through loss twice and navigate decisions normally consigned to adults." —
Booklist
"A powerful, big-hearted read." — Anthony Breznican, author of Brutal Youth and Senior Writer at Entertainment Weekly
"
Ultimatum
will appeal to a broad range of readers interested in complex family relationships." —
VOYA Magazine