Barbara the Slut and Other People (MP3 CD)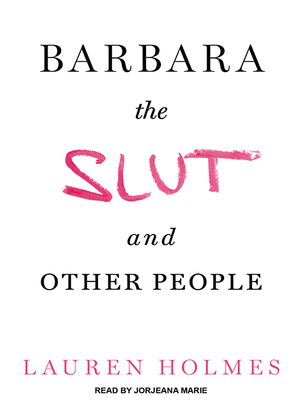 Staff Reviews
---
For most, visiting a bookstore is a transcendent experience full of joy and laughter. For me, it is an overwhelming blow to the brain as I stare at the endless rows of books, trying to narrow it down to just a few titles. If you're like me and you often wonder "What the hell do I want to read next?", this witty collection of short stories is for you. Lauren Holmes takes you through a wide range of emotions throughout her various tales, and each will leave you hitting a different spot on the "feels" spectrum. Each story was sharp, creative, and widely enjoyable. An easy read that will leave you craving more!
—
Jazmin
August 2015 Indie Next List
---
"Holmes' stories are powerful, sweet, tenderhearted, and honest depictions of contemporary experience. She navigates the thresholds of relationships, sex, and life-changing choices with poignancy and authenticity, bringing lovably imperfect characters to life through their struggles to negotiate the demands of culture as they strive to balance personal decisions and desires. A bold and beautiful debut."
— Sarah Nemire (E), Bookbug, Kalamazoo, MI
Description
---
Fearless, candid, and incredibly funny, Lauren Holmes is a newcomer who writes like a master. She tackles eros and intimacy with a deceptively light touch, a keen awareness of how their nervous systems tangle and sometimes short-circuit, and a genius for revealing our most vulnerable, spirited selves. In "Desert Hearts," a woman takes a job selling sex toys in San Francisco rather than embark on the law career she pursued only for the sake of her father. In "Pearl and the Swiss Guy Fall in Love," a woman realizes she much prefers the company of her pit bull-and herself-to the neurotic foreign fling who won't decamp from her apartment. In "How Am I Supposed to Talk to You?" a daughter hauls a suitcase of lingerie to Mexico for her flighty, estranged mother to resell there, wondering whether her personal mission-to come out-is worth the same effort. And in "Barbara the Slut," a young woman with an autistic brother, a Princeton acceptance letter, and a love of sex navigates her high school's toxic, slut-shaming culture with open eyes. With heart, sass, and pitch-perfect characters, Barbara the Slut is a head-turning debut from a writer with a limitless career before her.