Black Jesus and Other Superheroes: Stories (The Raz/Shumaker Prairie Schooner Book Prize in Fiction) (Paperback)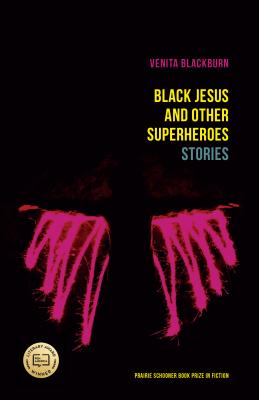 Description
---
2018 PEN America Literary Award Winner–Los Angeles
 Winner of the Prairie Schooner Book Prize in Fiction, Black Jesus and Other Superheroes chronicles ordinary people achieving vivid extrasensory perception while under extreme pain. The stories tumble into a universe of the jaded and the hopeful, in which men and women burdened with unwieldy and undesirable superhuman abilities are nonetheless resilient in subtle and startling ways.

Venita Blackburn's characters hurl themselves toward the inevitable fates they might rather wish away. Their stories play with magic without the sparkle, glaring at the internal machinations of the human spirit. Fragile symbols for things such as race, sexuality, and love are lifted, decorated, and exposed to scrutiny and awe like so many ruins of our imagination. Through it all Blackburn's characters stumble along currents of language both thoughtful and hilarious.
About the Author
---
Venita Blackburn is an assistant professor of creative writing at California State University, Fresno. Her works have appeared or are forthcoming in the newyorker.com, Harpers, Ploughshares,McSweeney's, the Paris Review, and other venues. She is founder of the literary nonprofit Live, Write (livewriteworkshop.com), which provides free creative writing workshops for communities of color. Blackburn's second collection of stories, How to Wrestle a Girl, will be published in the fall of 2021. 
 
Praise For…
---
"Venita Blackburn makes an indelible impression with her first collection of short stories. . . . Whether she embarks on writing novels or sticks with more short work along the line of Black Jesus and Other Superheroes, Blackburn is a writer to watch, but more importantly, to read."—Peter Dabbene, Foreword starred review

"With thoughtful subtext and symbols that address themes of race, sexuality, family, love and (dis)ability, Blackburn's remarkably short stories are characterized by a wild imagination and beautiful prose."—Taliah Mancini, Ms. Magazine blog

"Vernita Blackburn's debut is a stunning collection of beautiful, sustained narratives and flash pieces that testify to Blackburn's visual, electric writing style. The stories are stylistically unified by her distinctive use of language: a realist narrative style punctuated by flat, dead-pan humor and stunningly specific, sensory description. The work focuses on the themes of family, race, and religion."—Kari Hanlin, Mid-American Review

"Prepare! This collection bears exuberant testimony to a striking new talent. Witness here the terrific imagination of Venita Blackburn as she lays out and plays out the harm and the succor that come with family. These are short, high-octane stories, funny and dark; open this book and read the story 'Chew' right now! It will lead you to the rest. This is an exhilarating debut."—Ron Carlson, author of Return to Oakpine and A Kind of Flying
 

"Electrically alive, funny, real—this is work that just begs to be read aloud and when it is it will fill a room with crackle and ache. What a delight!"—Aimee Bender, author of The Particular Sadness of Lemon Cake