Downwind: A People's History of the Nuclear West (Paperback)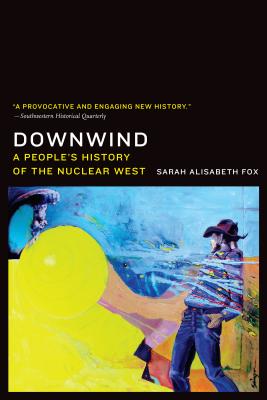 $19.95
Not Available In-Store - Usually Ships from Warehouse in 1-5 Days
Staff Reviews
---
Nuclear power is a technology that is still very young, and most of us all have a very natural fear of its power. Downwind takes us to the dark time of the above-ground nuclear testing that happened in our very own back yard, and is very critical of those of us who call these western states home. Most importantly, this story is about how the government manages its secrets and clean-up. Without huge breakthroughs in cutting edge batteries for bio-solar or fusion power, nuclear power inevitably will play a much bigger role as mankind is forced into a more desperate fight against climate change. But citizens will need more trust and more knowledge to embrace nuclear expansion. There is only one way for that to happen, open and accountable government. A must read for the future ahead.
—
Drew
Description
---
Downwind is an unflinching tale of the atomic West that reveals the intentional disregard for the inhabitants and the environment in nuclear testing by the federal government and in uranium extraction by mining corporations during and after the Cold War.
              
Sarah Alisabeth Fox interviews residents of the Great Basin region affected by environmental contamination from the uranium industry and nuclear testing fallout. Those residents tell tales of communities ravaged by cancer epidemics, farmers and ranchers economically ruined by massive crop and animal deaths, and Native miners working in dangerous conditions without proper safety equipment so that the government could surreptitiously study the effects of radiation on humans.

In chilling detail, Downwind brings to light the stories and concerns of these groups whose voices have been silenced and marginalized for decades in the name of "patriotism" and "national security."

With the renewed boom in mining in the American West, Fox's look at this hidden history, unearthed from years of field interviews, archival research, and epidemiological studies, is a must-read for every American concerned about the fate of our western lands and communities.
 
About the Author
---
    Sarah Alisabeth Fox is a freelance writer and editor. Her articles and reviews have appeared in Montana, the Magazine of Western History and Western Historical Quarterly.
Praise For…
---
"Combining the intricacies of the official record with the complicated narratives of the individuals she interviewed, Fox provides texture and insight into becoming and being downwind within the framework of both nuclear testing and uranium mining."—Leisl Carr Childers,
Environmental History
"
Downwind
advances our understanding of how communities interpret risk and medical information from federal officials and how they make sense of their predicament through stories."—Thomas Wellock,
Journal of American History
"Fox's account provides a welcome addition to the literature on the nuclear West made richer with new voices of those who lived and labored on the front lines of the Cold War."—Andrew Kirk,
Western Historical Quarterly
"
Downwind
offers a provocative and engaging new history of the suffering sustained by southwestern communities in the aftermath of nuclear testing and radioactive fallout."—Michael Wise,
Southwestern Historical Quarterly
"Compelling, well written, and meticulously researched."—David Mills,
Montana, The Magazine of Western History
"In addition to illuminating the past, this book also sheds light on the present, challenging us to wonder what 'official fictions' are being constructed today."—Samantha Updegrave,
High Country News
"
Downwind
manages the triple feat of being at once a rigorous piece of scholarship, a moving account of a dark and ongoing period in human history and an exquisitely accomplished first book."—Frank Kaminski, 
Resilience
"Readers will find
Downwind
an engaging, balanced, and profoundly human narrative of the consequences of a global, complex conflict."—Lucie Genay, 
Pacific Historical Revew
"Comprehensive and incisive, Downwind also adds heart and soul to an epic story of resilience in the aftermath of reckless arrogance. Sarah Fox gives the history of the nuclear age back to the people who had it written in their bones. The testimony she captured is both shocking and inspiring."—Chip Ward, author of Canaries on the Rim: Living Downwind in the West
 


"In this incredibly important book, Sarah Alisabeth Fox effectively shows how the stories of regular people are to be trusted more than the words of the government and the experts when the latter are lying in a misguided attempt to protect national security."—Doug Brugge, professor of public health and community medicine at Tufts University School of Medicine