Dance Theatre of Harlem: A History, A Movement, A Celebration (Hardcover)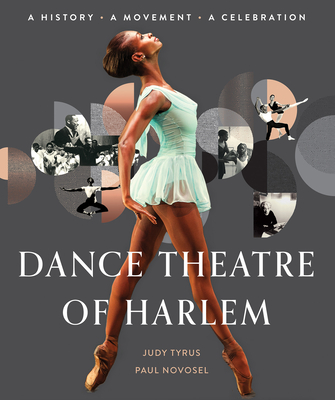 Description
---
2021 NAACP Image Award Nominee

This definitive history is a celebration of the first African-American ballet company, from its 1960s origins in a Harlem basement, to the performances, community engagement, and education message of empowerment through the arts for all which the Company continues to carry forward today. Illustrated with hundreds of never before seen photos from the founding during the Civil Rights Movement by Arthur Mitchell and Karel Shook through to today, this visual history tells the story that fueled Dance Theatre of Harlem's growth into one of the most influential and revolutionary American ballet companies of the last five decades.

With exclusive backstage stories from its legendary dancers and staff, and unprecedented access to its archives, Dance Theatre of Harlem is a striking chronicle of the company's amazing history, its fascinating daily workings, and the visionaries who made its legacy. Here you'll discover how the company's founders—African-American maestro Arthur Mitchell of George Balanchine's New York City Ballet, and Nordic-American Karel Shook of The Dutch National Ballet--created timeless works that challenged Eurocentric mainstream ballet head-on—and used new techniques to examine ongoing issues of power, beauty, myth, and the ever-changing definition of art itself.

Gaining prominence in the 1970s and 80s with a succession of triumphs—including its spectacular season at the Metropolitan Opera House—the company also gained fans and supporters that included Nelson Mandela, Stevie Wonder, Cicely Tyson, Misty Copeland, Jessye Norman, and six American presidents. Dance Theatre of Harlem details this momentous era as well as the company's difficult years, its impressive recovery as it partnered with new media's most brilliant creators—and, in the wake of its 50th anniversary, amid a global pandemic, its evolution into a worldwide virtual performance space.

Alive with stunning photographs, including many from the legendary Marbeth, this incomparable book is a must-have for any lover of dance, art, culture, or history.

About the Author
---
Judy Tyrus danced with Dance Theatre of Harlem for twenty-two years and was a principal ballerina for the Oakland Ballet. Since retiring from dance, she's continued her work in the industry as an archivist, exhibition specialist, social media manager, photographer, and professor of dance. She currently works as a consultant for Dance Theatre of Harlem and is the co-founder of ChromaDiverse, Inc., a non-profit corporation which promotes cultural diversity in the performing arts. She resides in San Francisco, California.

Paul Novosel has had a forty-year career as a pianist, organist, playwright, and composer, performing as a keyboardist in major venues throughout the United States and Europe, including Carnegie Hall. He graduated summa cum laude as a music composition student of John Corigliano, was a dramatist student of Broadway's William Hoffman, and received his MA in music from The University of Limerick, Ireland. He has served as assistant archivist and staff pianist at Dance Theatre of Harlem, and is the co-founder of ChromaDiverse, Inc. He lives in New York City.