The Road Home (The Broken Road Series) (Paperback)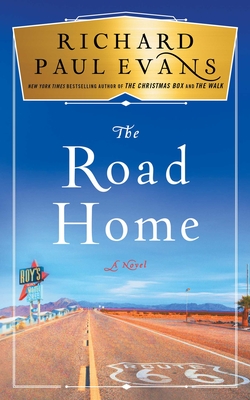 Other Books in Series
Description
---
From #1 New York Times bestselling author Richard Paul Evans, the dramatic conclusion in the riveting Broken Road trilogy—a powerful redemption story about finding happiness on a pilgrimage across iconic Route 66.

Chicago celebrity and pitchman Charles James is supposed to be dead. Everyone believes he was killed in a fiery plane crash, a flight he narrowly missed. But thanks to that remarkable twist of fate, he's very much alive and ready for a second chance at life and love. Escaping death has brought Charles some clarity: the money, the fame, the expensive cars; none of it brought him true joy or peace. The last time he was truly happy was when he was married to his ex-wife Monica, before their relationship was destroyed by his ambition and greed.

In this final installment of the exciting and provocative series that began with The Broken Road and The Forgotten Road, Charles is still on his pilgrimage across the iconic Route 66. He intends to finish his trek from Amarillo to Santa Monica, despite learning that his ex-wife is now planning to marry another man. With the initial reason for his trip in jeopardy, he still has lessons to learn along the way before he discovers—and arrives at—his true destination.
About the Author
---
Richard Paul Evans is the #1 New York Times and USA TODAY bestselling author of more than forty novels. There are currently more than thirty-five million copies of his books in print worldwide, translated into more than twenty-four languages. Richard is the recipient of numerous awards, including two first place Storytelling World Awards, the Romantic Times Best Women's Novel of the Year Award, and is a five-time recipient of the Religion Communicators Council's Wilbur Awards. Seven of Richard's books have been produced as television movies. His first feature film, The Noel Diary, starring Justin Hartley (This Is Us) and acclaimed film director, Charles Shyer (Private Benjamin, Father of the Bride), will debut in 2022. In 2011 Richard began writing Michael Vey, a #1 New York Times bestselling young adult series which has won more than a dozen awards. Richard is the founder of The Christmas Box International, an organization devoted to maintaining emergency children's shelters and providing services and resources for abused, neglected, or homeless children and young adults. To date, more than 125,000 youths have been helped by the charity. For his humanitarian work, Richard has received the Washington Times Humanitarian of the Century Award and the Volunteers of America National Empathy Award. Richard lives in Salt Lake City, Utah, with his wife, Keri, and their five children and two grandchildren. You can learn more about Richard on his website RichardPaulEvans.com.