Two If by Sea (Hardcover)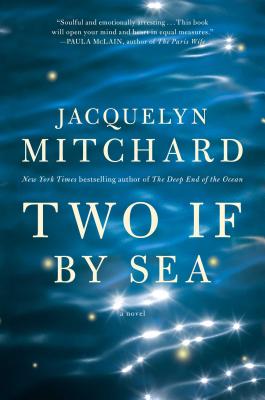 March 2016 Indie Next List
---
"Mitchard has woven a gripping narrative of a family borne out of tragedy. Frank loses his wife and unborn son to a tsunami, and in the midst of rescuing others saves a small boy. This child, Ian, possesses a special gift that impacts those around him in powerful ways. As Frank tries to form a new family, there are repercussions from Ian's past that put them both at risk. This is the marvelous story of Frank and Ian's journey as both try to handle the pain of the past and accept the joy of new beginnings. I loved it!"
— Stephanie Crowe (W), Page & Palette, Fairhope, AL
Description
---
From the #1 New York Times bestselling author of The Deep End of the Ocean, an epic story of courage and devotion that spans three continents and the entire map of the human heart.

Just hours after his wife and her entire family perish in the Christmas Eve tsunami in Brisbane, American expat and former police officer Frank Mercy goes out to join his volunteer rescue unit and pulls a little boy from a submerged car, saving the child's life with only seconds to spare. In that moment, Frank's own life is transformed. Not quite knowing why, Frank sidesteps the law, when, instead of turning Ian over to the Red Cross, he takes the boy home to the Midwestern farm where he grew up. Not long into their journey, Frank begins to believe that Ian has an extraordinary, impossible telepathic gift; but his only wish is to protect the deeply frightened child. As Frank struggles to start over, training horses as his father and grandfather did before him, he meets Claudia, a champion equestrian and someone with whom he can share his life—and his fears for Ian. Both of them know that it will be impossible to keep Ian's gift a secret forever. Already, ominous coincidences have put Frank's police instincts on high alert, as strangers trespass the quiet life at the family farm.

The fight to keep Ian safe from a sinister group who want him back takes readers from the ravaged shores of Brisbane to the middle of America to a quaint English village. Even as Frank and Claudia dare to hope for new love, it becomes clear that they can never let Ian go, no matter what the cost. A suspenseful novel on a grand scale, Two If by Sea is about the best and worst in people, and the possibility of heroism and even magic in ordinary life.
About the Author
---
New York Times bestselling author Jacquelyn Mitchard has written many novels for adults, including Two If by Sea. She has also written young adult novels; children's books; a memoir, Mother Less Child; and a collection of essays, The Rest of Us: Dispatches from the Mother Ship. Her first novel, The Deep End of the Ocean, was the inaugural selection of the Oprah Winfrey Book Club, later adapted for a feature film starring and produced by Michelle Pfeiffer. Mitchard is the editor in chief and co-creator of Merit Press and a professor of fiction and creative nonfiction at Vermont College of Fine Arts in Montpelier. She lives on Cape Cod with her husband and their nine children.
Praise For…
---
"Suspenseful, otherworldly and nearly impossible to put down."
— People

"Mitchard's latest novel explores the fascinating question of those who have extraordinary gifts, what responsibility comes with those gifts, and where the line of morality falls between those poles. A thoughtful, sweeping read."
— Jodi Picoult, New York Times bestselling author of Leaving Time

"Soulful and emotionally arresting, Two If by Sea is somehow both a startling departure for Jacquelyn Mitchard and the deepest sort of coming home. With the intertwining fates of Frank Mercy and the mysterious, exceptional foundling, Ian, Mitchard masterfully mines the place where catastrophic loss meets near-impossible hope and healing, and where ordinary love and sorrow meet the most extraordinary interventions. This book will open your mind and heart in equal measures."
— Paula McLain, author of The Paris Wife

"A day after losing his wife and unborn child in a tsunami in Australia, American Frank Mercy rescues a mysterious young boy from the floodwaters. What happens next offers Mercy the opportunity to heal his new wounds while opening old ones. This sprawling family saga is a lot of things - a finely drawn character study, a transcontinental thriller, a portrait of grief and loss - but, most importantly, it is a very, very good book. Although it brings to mind the work of writers like Gail Godwin and Richard Flanagan, this is the kind of novel that only Jacquelyn Mitchard can write: a literary page-turner that is as propulsive as it resonant, as hard to define as it is to put down."
— Wiley Cash, New York Times bestselling author of A Land More Kind Than Home and This Dark Road to Mercy

"Jacquelyn Mitchard has done it again. TWO IF BY SEA is a riveting story of loss, love, and redemption, driven by the tension between the worst of us and the best of us. Both supernatural and reality-bound, this tantalizing thriller won't let you go. Kudos to Mitchard for such an insightful and compelling read."
— B.A. Shapiro, author of The Art Forger

"With grand landscapes, deep emotions, harrowing adventure, and genuine characters who aren¹t characters at all but people about whom we come to care so very much, Two if by Sea is a powerful blockbuster of the first order. There is magic here, both in terms of the vast story told, and in Ms. Mitchard¹s always-beautiful writing. This is a riveting book, a gift to readers everywhere who want to sink into a novel of history and love and grace and magic."
— Brett Lott, author of Jewel

"A gripping family saga buoyed by hope and second chances…Racing to its conclusion, Mitchard's sweeping prose suspends natural boundaries. She forges a fresh sense of faith despite incredible odds."
— Minneapolis Star Tribune

"Bestselling author Jacquelyn Mitchard (The Deep End of the Ocean) balances love and loss in her new novel, Two If By Sea. It is a sweet story of one man's road to recovery and the challenges he faces to protect the people he loves…It's a universal adventure full of emotion and quite a bit of intrigue."
— Fort Worth Star-Telegram

"Like all good novels, Two If by Sea works on two levels. There's an exciting adventure story. And beneath that is a meditation on family, loss, and recovery....It's a great story. And powerfully written....a love story that kept me reading long after I should have turned off the lights."
— Jesse Kornbluth

"A troubled protagonist, beset by disaster and malefaction, is touched by magic."
— Kirkus Reviews

"A gripping new family drama… Mitchard deftly weaves together domestic drama with taut suspense as she builds to a heart-stopping climax…Mitchard explores new territory in this unusual and suspenseful tale."
— Booklist

"Mitchard's latest combines elements of science fiction and suspense with a heartfelt meditation on family and grief. … Mitchard's usual strong characters and emotionally resonant prose are evident."
— Publishers Weekly