The Prisoner in His Palace: Saddam Hussein, His American Guards, and What History Leaves Unsaid (Hardcover)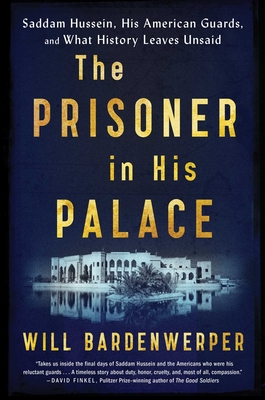 Staff Reviews
---
Before reading this I would have thought humanizing a villainous foe such as Saddam Hussein couldn't be done. It's been over ten years since an Iraqi tribunal sentenced to death and executed him for crimes he and his regime committed against their own countrymen. What was supposed to be a watershed moment for the West's relationship with the Middle East largely fizzled out as the region continued to suffer insurgent violence and the rise of the Islamic State. However, his death was absolutely significant for the American soldiers tasked with protecting him in his final days. The Saddam the "Super Twelve" met was a frail, old man who loved cigars and could even crack a good joke. These soldiers' stories are incredible and do strangely achieve the impossible -- without condoning his actions, they put a human face on a person responsible for some of the most vile crimes in history.
— From
Jeremy's Picks (page 1)
Description
---
In the haunting tradition of In Cold Blood and The Executioner's Song, this remarkably insightful and surprisingly intimate portrait of Saddam Hussein lifts away the top layer of a dictator's evil and finds complexity beneath as it invites us to take a journey with twelve young American soldiers in the summer of 2006. Trained to aggressively confront the enemy in combat, the men learn, shortly after being deployed to Iraq, that fate has assigned them a different role. It becomes their job to guard the country's notorious leader in the months leading to his execution.

Living alongside, and caring for, their "high value detainee" in a former palace dubbed The Rock and regularly transporting him to his raucous trial, many of the men begin questioning some of their most basic assumptions—about the judicial process, Saddam's character, and the morality of modern war. Although the young soldiers' increasingly intimate conversations with the once-feared dictator never lead them to doubt his responsibility for unspeakable crimes, the men do discover surprising new layers to his psyche that run counter to the media's portrayal of him.

Woven from first-hand accounts provided by many of the American guards, government officials, interrogators, scholars, spies, lawyers, family members, and victims, The Prisoner in His Palace shows two Saddams coexisting in one person: the defiant tyrant who uses torture and murder as tools, and a shrewd but contemplative prisoner who exhibits surprising affection, dignity, and courage in the face of looming death.

In this artfully constructed narrative, Saddam, the "man without a conscience," gets many of those around him to examine theirs. Wonderfully thought-provoking, The Prisoner in His Palace reveals what it is like to discover in one's ruthless enemy a man, and then deliver him to the gallows.
About the Author
---
Will Bardenwerper has contributed to The New York Times and The Washington Post. He served as an Airborne Ranger-qualified infantry officer in Iraq and was awarded a Combat Infantryman's Badge and Bronze Star. In 2010, he joined the Pentagon as a Presidential Management Fellow, where he spent the next four years. He has an MA in international public policy from The Johns Hopkins University School of Advanced International Studies and a BA in English from Princeton. The Prisoner in His Palace is his first book.
Praise For…
---
"Bardenwerper deftly toggles from a nonstop supply of terror to occasional scenes of normal life throughout The Prisoner in His Palace . . . a brief, but powerful, meditation on the meaning of evil and power."
—USA Today

"Compelling."
—New York Post

"The Prisoner in His Palace is an affirmation of human dignity even in people who have behaved horrifically and in situations where you would least expect it."
—San Quentin News

"An Iraq war veteran himself (but not in the Super Twelve), Bardenwerper has written an exceptional debut . . . his storytelling skills—confident but never showy prose, a terrific sense of pacing—make for an enlightening piece of journalism."
—Minneapolis Star Tribune

"Expertly examines Saddam Hussein."
—Vanity Fair

"Takes you inside the minds of the prisoner and his protectors, whose sole task it to guard the 'Vic,' or Very Important Criminal . . . The book is captivating . . . a study of how proximity has a propensity to be persuasive, even when the common area is a cell in the basement of a courthouse."
—Military Times

"A behind-the-scenes look at history that's nearly impossible to put down . . . [Intersperses] tales from Saddam's past with scenes of his final days . . . As he was being led away to his execution, Hussein thanked the twelve Americans guarding him, adding that 'they'd become "more like family to him" than any Iraqis had been.' The Prisoner in His Palace offers a mesmerizing glimpse into the final moments of a brutal tyrant's life."
—Bookpage

"What ultimately emerges is how to comport oneself in the world . . . [Saddam] was condemned to hang, a grave and deserved insult in Iraqi eyes. But 'the ugliness of the old man's death'—defiled in his winding sheet, kicked and stabbed after being strangled (the drop was bungled goes the story)—disgusted The Twelve . . . This is no reverse Stockholm syndrome at play, Bardenwerper convincingly suggests, but a bracing affirmation—a great Whitmanesque hug—of human dignity in the face of all that is harrowingly wrong."
—Newsday

"Bardenwerper gives the reader a close look at a real-life supervillain, and how easy it is for him to gather minions at his feet . . . tightly-constructed and engaging."
—The Rumpus

"Searing . . . Bardenwerper breathes an impressive amount of life into a story that hurtles toward death from the opening page."
—WarOnTheRocks.com

"In skin-crawling detail, Will Bardenwerper effectively captures a unique time and place in an engrossing history. A singular study exhibiting both military duty and human compassion."
—Kirkus Reviews

"What a surprising, remarkable and deeply affecting book. By taking us inside the final days of Saddam Hussein and the Americans who were his reluctant guards, Will Bardenwerper has written a timeless story about duty, honor, cruelty, and most of all compassion."
—David Finkel, Pulitzer Prize-winning journalist and author of Thank You for Your Service and The Good Soldiers

"Thoroughly engrossing … We want to believe that Saddam Hussein was a monster, but reading this, you'll learn that he was quite human—which is even more chilling. I highly recommend this book to anyone interested in our recent war in Iraq, or in the heights and depths of human nature."
—Karl Marlantes, New York Times bestselling author of Matterhorn and What It Is Like to Go to War

"Reminiscent of Truman Capote's In Cold Blood, Will Bardenwerper's The Prisoner in His Palace offers a riveting and harrowing exploration into the nature of evil and the mind of a murdering psychopath—but, also, into how even the execution of a guilty man can later haunt those involved in his death…Like Capote before him, Bardenwerper brilliantly portrays not a cardboard villain, but a complicated man who was unquestionably sadistic but also manifested flashes of generosity and compassion…Bardenwerper has revealed one of the greatest little-known war stories in American history."
—Andrew Carroll, New York Times bestselling author of War Letters, Behind the Lines, and Operation Homecoming

"Offers shocking insights into the banality of evil….an Alice-In-Wonderland tumble through Iraqi dictator Saddam Hussein's dark psyche. Will Bardenwerper vividly exhumes some of the tyrant's twisted brutalities—all true—and yet reveals the gritty humanity of Saddam through the eyes of the young American soldiers assigned to guard him in the last months before he is hanged. A disturbing and entirely captivating piece of literary journalism.
—Kai Bird, coauthor of the Pulitzer-winning American Prometheus and author of the New York Times bestseller The Good Spy: The Life and Death of Robert Ames

"In war, the enemy is always the 'the other.' What makes The Prisoner in His Palace so captivating is how Bardenwerper brilliantly juxtaposes the brutal acts that Saddam Hussein perpetrated against his own people, with the dignified, and even tender, manner in which the Iraqi dictator interacted with his American guards. What the book reveals is that our common humanity turns 'the enemy' into someone quite unexpected."
—Peter Bergen, New York Times bestselling author of Manhunt: The Ten-Year Search for Bin Laden from 9/11 to Abbottabad

"Will Bardenwerper has succeeded in writing a book about the Iraq War from a wholly new perspective. This superb account of the twelve men assigned to guard Saddam Hussein forces us to acknowledge that there can be honor and courage on all sides in war. Absolutism is for people who've never been there."
—Nathaniel Fick, author of the New York Times bestseller One Bullet Away

"In the American imagination, Saddam Hussein functions as nothing more than a two-dimensional despot, a monster who terrorized and gassed and desecrated his own people. He was. He did. Will Bardenwerper's The Prisoner in his Palace reveals something else about Saddam, though, something less simple than that known caricature and certainly more troubling: he was a human being, a human like all of us, a human being with hopes and dreams and regrets that woke him in the dead of night. Saddam wrote poetry and longed for his family and treated the American soldiers tasked with guarding him during his trial with kindness and generosity of spirit. This is a brave and piercing book."
—Matt Gallagher, author of the novel Youngblood and Kaboom

"The Prisoner in His Palace finds humanity in a singularly inhuman figure, Saddam Hussein. Through meticulous reporting and beautiful storytelling, Will Bardenwerper has crafted a portrait that is both deeply moving and deeply disturbing. This book challenges the tired constructs of 'good versus evil' that have led us into so many ill-conceived wars."
—Elliot Ackerman, author of Green on Blue

"An astonishing, riveting story that brings the reader face to face with the specter of Saddam Hussein in captivity. As twelve young American guards spend their days in the same room with this brutal gangster-killer, a chilling, Shakespearean portrait emerges. Intriguingly, we meet a man who, while sometimes manipulative and petty, is also avuncular, joking, charming, wistful, and physically affectionate. There is even a scene of the Beast of Baghdad hugging an American soldier in a moment of tenderness. This is an unforgettable, essential read."
—William Doyle, author of A Soldier's Dream: Captain Travis Patriquin and the Awakening of Iraq and PT 109: An American Epic of War, Survival and the Destiny of John F. Kennedy

"A moving and perception-altering book that exposes how wrong we are in so much of what we assume about war. In the fifteen years that America has been at war we've imprisoned, injured and killed thousands of foreign citizens. It's time we got to know some of them. Will Bardenwerper introduces us to a name we know well, but a story about which we know little. Saddam Hussein's execution was not just about the death of a tyrant. It's about the Americans who were tasked with guarding him, interrogating him, and preparing him for his death. No matter the justification, there are long lingering consequences for all involved—often, terrible ones. But rather than shouldering and sharing those consequences as a nation, we've looked away and allowed too few to carry those burdens. Mr. Bardenwerper forces us to turn our gaze not only on those we have killed, but on those who were there to see the task done."
—Eric Fair, Pushcart Prize-winning essayist and author of the memoir Consequence

"What an astonishing story. Through meticulous research and a keen eye for detail, Bardenwerper does the near impossible: convinces the reader to empathize with Saddam Hussein during his sad final days. The Prisoner in His Palace is a deeply human book, and though we all know the ending, I couldn't put it down."
—Brian Castner, author of The Long Walk and All the Ways We Kill and Die

"Will Bardenwerper has written a bracing account of Saddam Hussein's final months through the eyes of those who guarded and interrogated him—eyes that are uncomfortably opened to the complexity of evil. Reminiscent of 20th century Nazi character portraits such as Gitta Sereny's Into That Darkness, Bardenwerper's The Prisoner in His Palace will be many things to many people. To this writer and combat veteran, it is an exhilarating, extraordinary, and damning look in the mirror."
—Adrian Bonenberger, author of Afghan Post

"The Prisoner in His Palace is an important contribution to the liter­ature from America's 9/11 wars. Will Bardenwerper has written a concise and engrossing account of the final days of Saddam Hus­sein. The stories of the American soldiers who guarded the Iraqi leader serve as a sharp reminder of war's complexities, contradic­tions, and costs."
—J. Kael Weston, author of The Mirror Test: America at War in Iraq and Afghanistan

"The Prisoner in His Palace is a searing, beautifully crafted explo­ration of humankind's capacity for both boundless savagery and awe-­inspiring perseverance. By tracking down and listening to the soldiers who stood watch over Saddam Hussein during the dic­tator's final days, Will Bardenwerper has done far more than just commit a heroic act of journalism; he has also created an extraor­dinary work of history that should be read by all who seek to understand how evil can flourish, and how it can be defeated."
—Brendan I. Koerner, author of The Skies Belong to Us and Now the Hell Will Start

"Bardenwerper's examination of how soldiers, trained to focus on the inhumanity of the enemy, struggle to frame and reframe that inhumanity, is the focus of The Prisoner in His Palace. The book's action will pull you along like any great military adventure, but bubbling underneath is an absorbing and sometimes heartbreak­ing survey of young men grappling with a moral certitude that begins to shift below the desert sands they're standing on."
—Tim Townsend, author of Mission at Nuremberg