The Girl Who Escaped ISIS: This Is My Story (Hardcover)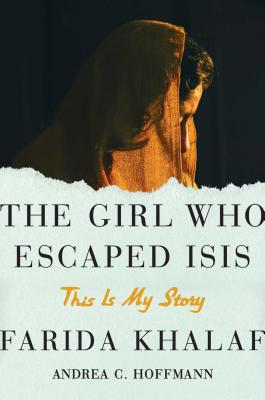 Staff Reviews
---
This was a difficult book to read, for obvious reasons, but I feel its importance cannot be overstated. For anyone who has wondered why we should involve ourselves in the war against ISIS, Farida's voice is strong and clear. She reveals the peaceful lives ISIS is tearing apart. The strength and cunning Farida displayed during her captivity, her ceaseless reminders to her captors that their religion did not allow for what they were doing to her and her people, and her indomitable will are that of a truly remarkable individual who cared not just for herself but for the other girls in her same plight. Her escape was managed by the narrowest of circumstances and should remind us that very few women captured by ISIS manage it, and those who do not endure circumstances we can barely conceive of. I dare anyone who thinks ISIS isn't our problem to read this book and still hold the same opinion.
—
Michelle
Description
---
Named a "Best Book of the Year" by New York Post

"Farida Khalaf's story is harrowing but crucial—especially when it comes to understanding what ISIS actually is and does." —Glamour

"As gripping as it is appalling…a compelling testament to the suffering of ordinary people caught up in violence far beyond their control—and to the particularly terrible price it exacts from women." —The Guardian

A young Yazidi woman was living a normal, sheltered life in northern Iraq during the summer of 2014 when her entire world was upended: her village was attacked by ISIS. All of the men in her town were killed and the women were taken into slavery.

This is Farida Khalaf's story.

In unprecedented detail, Farida describes her world as it was—at nineteen, she was living at home with her brothers and parents, finishing her schooling and looking forward to becoming a math teacher—and the hell it became. Held in a slave market in Syria and sold into the homes of several ISIS soldiers, she stubbornly attempts resistance at every turn. Farida is ultimately brought to an ISIS training camp in the middle of the desert, where she plots an against-all-odds escape for herself and five other girls.

A riveting firsthand account of life in captivity and a courageous flight to freedom, this astonishing memoir is also Farida's way of bearing witness, and of ensuring that ISIS does not succeed in crushing her spirit. Her bravery, resilience, and hope in the face of unimaginable violence will fascinate and inspire.
About the Author
---
Farida Khalaf is from the Yazidi community of the small village of Kocho, Iraq. Farida was nineteen years old and preparing for her last year in school when ISIS descended upon her village, and she was sold into slavery. After making a daring escape, she reunited with her mother and her brothers in an Iraqi refugee camp and was granted asylum in Germany in 2015.

Andrea C. Hoffmann is an author and a journalist. She specializes in the Middle East and the situation of women in Muslim countries. She lives in Berlin, Germany.
Praise For…
---
"Farida Khalaf's story is harrowing but crucial—especially when it comes to understanding what ISIS actually is and does."
— Glamour

"The subject matter is difficult, but [Farida Khalaf's] courage and resilience is powerful."
— Bustle

"The book comes at a critical moment as ISIS tightens its hold on the estimated 3,000 Yazidi women and children still in its grasp… Even in hiding, Khalaf demonstrates her incredible courage. The courage it took to survive and, now, to tell her powerful story."
— New York Daily News

"An incredible account of what global jihad looks like from the inside. A brutal, vital memoir that gives human voice to what we increasingly regard as policy."
— New York Post

"Farida recounts the horrors she and the other young women endured in captivity. Her story highlights the suffering caused by the Islamic State's flawed interpretation of the Koran and the group's brutal intolerance of peaceful religions."
— Washington Post

"Farida's story cuts through the statistics and the geopolitics to tell of a single life changed forever by a war …It is a story of loss of innocence but also discovery of an amazing inner strength that drives Farida to survive the nightmare and to bear witness to what happened."
— New York Journal of Books

"The Girl Who Escaped ISIS is [Farida Khalaf's] incredible account of captivity and describes how she defied the odds and escaped a life of torture, in order to share her story with the world,"
— Book Reporter

"As gripping as it is appalling…a compelling testament to the suffering of ordinary people caught up in violence far beyond their control—and to the particularly terrible price it exacts from women."
— The Guardian (UK)

"A mesmerizing study of human cruelty and a brave depiction of the monsters that arise when reason sleeps."
— The Sunday Times (UK)

"Shattering, brave, angering account."
— The Bookseller (UK)

"A powerful description of a world ripped apart."
— The New Statesman (UK)

"A vital read."
— Hot Press (UK)

"A shattering, brave, enraging book but also a stirring story of survival."
— Sunday Express (UK)

"How much can a single person endure? Traumatized, uprooted, abused–Farida continues to deal with the consequences of the ISIS terror. Nevertheless, the memoir of the young Yazidi woman is full of hope. She is a very strong individual, she has the heart of a lioness, and luckily, her faith is strong enough to help her endure all crises. An amazing story, that hurts – and that encourages everyone never to keep quiet or to give in."
— Frank Heinrich, Speaker of the Committee on Human Rights and Humanitarian Aid of the German Parliament

''A stunning, heart wrenching narrative by a teenage Yazidi girl who is uprooted from her village in northern Iraq, only to be kidnapped and sold as a sex slave by ISIS. Farida fights back and is horribly beaten by ISIS for her resistance and her leadership role as she attempts to save other girls from the terrible fate that awaits them. Once Farida escapes it takes even more courage for her to recite her story to German journalist Andrea Hoffman. Everyone should read this in order to get to the heart of the tragedy of the Arab world and the distortion of Islam being perpetrated by ISIS. Beautifully written in the voice of a teenage girl, this book gives more of an understanding of what is happening than political treatises.''
— Ahmed Rashid, #1 New York Times bestselling author of Taliban