Trying to Float: Coming of Age in the Chelsea Hotel (Hardcover)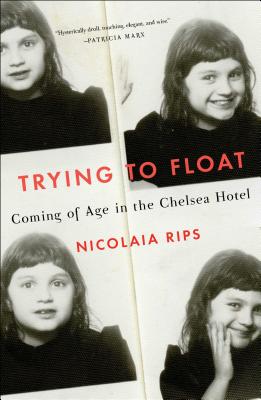 Description
---
"Hysterically droll, touching, elegant, and wise—a coming-of-age story from someone who possibly came of age before her parents" (Patricia Marx, New Yorker writer and bestselling author), Trying to Float is a seventeen-year-old's darkly funny, big-hearted memoir about growing up in New York City's legendary Chelsea Hotel.

New York's Chelsea Hotel may no longer be home to its most famous denizens—Andy Warhol, Leonard Cohen, Patti Smith, to name a few—but the eccentric spirit of the Chelsea is alive and well. Meet the family Rips: father Michael, a lawyer turned writer with a penchant for fine tailoring; mother Sheila, a former model and renowned artist who matches her welding outfits with couture; and daughter Nicolaia, a precocious high school junior at work on a record of her peculiar seventeen years.

Nicolaia is a perpetual outsider who has struggled to find her place in public schools populated by cliquish girls and loudmouthed boys. But at the Chelsea, Nicolaia need not look far to find her tribe. There's her neighbor Stormé, a tall woman who keeps a pink handgun strapped to her ankle; her babysitter, Jade, who may or may not have a second career as an escort; her friend Artie, former proprietor of New York's most famous nightclubs. The kids at school might never understand her, but as Nicolaia endeavors to fit in she begins to understand that the Chelsea's motley crew could hold the key to surviving the perils of a Manhattan childhood.

Not since Holden Caulfield has there been such a fabulously compelling teen guide to New York City: Nicolaia Rips's debut is a disarming, humble, heartfelt, and wise tale of coming-of-age amid the contradictions, complexities, and shifting identities of life in New York City. A bohemian Eloise for our times, Trying to Float is a triumphant parable for the power of embracing difference in all its forms.
About the Author
---
Nicolaia Rips is a freshman at Brown University (class of 2020). She has lived at the Chelsea Hotel for her entire life. In her spare time, she studies vocal music, participates in team sports, reads avidly, and tolerates her parents. Trying to Float is her first book.
Praise For…
---
"Nicolaia Rips is an old-soul sophisticate who's written a breezy memoir. [Trying to Float] is like Eloise Meets Wes Anderson."

"A charmingly self-deprecating and very funny collection of short chapters chronicling the awkwardness of elementary-school growing pains against the backdrop of living in the iconic and infamous Chelsea Hotel, Trying to Float is at once highly insightful and deeply familiar."

"Seventeen-year-old Nicolaia Rips is wise beyond her years in her off-kilter memoir, Trying to Float."

"Rips is disarmingly inquisitive . . . and a magnetic storyteller. Count Rips as one of the hotel's most gifted latter-day offspring."

"The book portrays a flamboyant cast of residents . . The juvenile point of view adds poignancy to the depiction of messy adult lives and New York's vanishing bohemia."

"Trying to Float is filled with the pinpoint descriptions and humor of Lena Dunham and the children's book Eloise. In it, Nicolaia examines her wonder years with the clarity of an old soul who's seen it all."

"Rips' ability to write simply, paired with her dry wit, propels the reader through her coming-of-age...An impressive debut."

"The next Lena Dunham or David Sedaris may just be 17-year-old Nicolaia Rips, whose memoir, Trying to Float: Coming of Age in the Chelsea Hotel, is a brilliant chronicle of the place where she has spent virtually all of her life."

"Trying to Float is hysterically droll, touching, elegant, and wise— a coming-of-age story from someone who possibly came of age before her parents. No doubt, people will allude to other books in attempts to describe this one (Holden Caulfield if he went to public school, Eloise without room service) but truly Nicolaia's chronicle is sui generis. I had such a good time reading it that the person I share an apartment with told me to stop saying, "You can't believe how extraordinary this is!" because he was trying to concentrate on something else and anyway, he believed me the first time."
— Patricia Marx

"These little tales about little rascals in New York City are charming, strange, and inspiring. What a very funny, improbably truthful book about childhood this is."
— Joseph O'Neill, author of Netherland and The Dog

"As a former resident of the Chelsea Hotel, I came at this book with trepidation. What could an 17-year-old have to say about the last Dionysian castle in New York City? My skepticism ended with the prologue. Nicolaia Rips writes with wit, discipline, and grace. Her voice is real. With this book she is announcing herself as a force in the next generation of artists."

— Ethan Hawke

"Rips is a gifted writer who quickly reveals a mature, nuanced insight into human behavior. She has a genuine talent for extracting comic potential within these encounters, yet she balances them with moments of surprising poignancy. An engaging story with a big heart, written by a young adult whose sharply tuned and often witty observations will appeal to adults and teens alike."

"This heartfelt memoir balances pathos and humor, proving that Rips, still only a senior in high school, is a promising writer who is wise beyond her years."


"I love this book! Nicolaia Rips, while young, is the real thing. Wodehouse reborn in a young girl. He would have been charmed."

— Joel Grey, author of Master of Ceremonies

"Reading about Nic's bohemian childhood is like chatting with a friend over coffee and busting out laughing over the most awkward moments from your past—hers were just a lot more exotic! This peek into the author's diverse, unfocused childhood was hilarious, heartwarming and totally outrageous."