Woolly: The True Story of the Quest to Revive One of History's Most Iconic Extinct Creatures (Hardcover)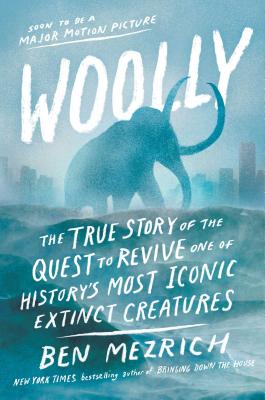 Staff Reviews
---
It took a couple chapters, but I'm in. I'm a convert. Let's bring that Mammoth back. In Woolly, Ben Mezrich follows teams of scientists attempting to resurrect the Woolly Mammoth and details how they aim to do it and the ramifications of their possible success. It's not all man's hubris either, the benefits of bringing back this extinct animal could help curb the effects of climate change and may inadvertently lead to an eradication of a vicious strand of herpes threatening to wipe out the Asian Elephant population. It also tackles the inevitable Jurassic Park comparison head on and takes care to explain why this is not the same thing, and the science in that famous novel is ridiculous anyway. This book reads quickly and it's a fascinating study of how far we've come scientifically and how far we still may be able to go.
— From
Danny's Picks (page 1)
Description
---
Science fiction becomes reality in this Jurassic Park-like story of the genetic resurrection of an extinct species—the woolly mammoth—by the bestselling author of The Accidental Billionaires and The 37th Parallel.

"With his knack for turning narrative nonfiction into stories worthy of the best thriller fiction" (Omnivoracious), Ben Mezrich takes us on an exhilarating true adventure story from the icy terrain of Siberia to the cutting-edge genetic labs of Harvard University. A group of young scientists, under the guidance of Dr. George Church, the most brilliant geneticist of our time, works to make fantasy reality by sequencing the DNA of a frozen woolly mammoth harvested from above the Arctic circle, and splicing elements of that sequence into the DNA of a modern elephant. Will they be able to turn the hybrid cells into a functional embryo and bring the extinct creatures to life in our modern world?

Along with Church and his team of Harvard scientists, a world-famous conservationist and a genius Russian scientist plan to turn a tract of the Siberian tundra into Pleistocene Park, populating the permafrost with ancient herbivores as a hedge against an environmental ticking time bomb. More than a story of genetics, this is a thriller illuminating the race against global warming, the incredible power of modern technology, the brave fossil hunters who battle polar bears and extreme weather conditions, and the ethical quandary of cloning extinct animals. Can we right the wrongs of our ancestors who hunted the woolly mammoth to extinction—and at what cost?
About the Author
---
Ben Mezrich graduated magna cum laude from Harvard. He has published seventeen books, including the New York Times bestsellers The Accidental Billionaires, which was adapted into the Academy Award–winning film The Social Network, and Bringing Down the House, which was the basis for the hit movie 21. He lives in Boston.
Praise For…
---
"Paced like a thriller…Woolly reanimates history and breathes new life into the narrative of nature."
— NPR

"Step aside Jurassic Park, make way for the new and improved woolly mammoth."
— USA Today

"Jurassic Park, a bit of The Big Bang Theory...[mixed] with jaw-dropping scientific findings...for science-minded readers, thrill-lovers, or dreamers, Woolly is a mammoth-sized read."
— Quad-City Times (Iowa)

"A page-turning tale. . . .[a] rollercoaster quest for the past and future. . . . Mezrich's ability to weave the details of DNA science into an easily accessible narrative does much to broaden the lay reader's understanding of the tremendous developments and awe-inspiring capabilities of some of today's most groundbreaking science."
— Christian Science Monitor

"Facinating...a mesmerizing tale...thought-proviking."
— Bookpage