The Girl from Widow Hills: A Novel (Hardcover)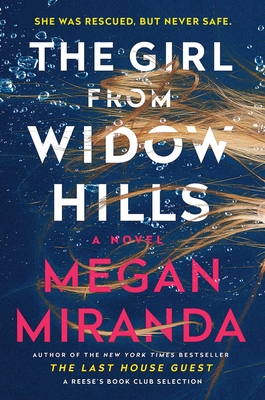 $26.99
Email or call for price.
July 2020 Indie Next List
---
"How do you cope when the whole world knows your name and acts like they own a bit of your trauma story? Maybe you change your name, like Olivia does, and try to make a break from your past. Until one night when you find yourself sleepwalking. Like you did 20 years ago. And suddenly not only has your past caught up with you, it is legit stalking you. Now your secret is out, but there are even more deadly secrets hiding in the shadows. The final twists in this story are so sharp, you'll check yourself for stab wounds! Another fantastic, twisty, thrilling read from Megan Miranda!"
— Kate Towery, Fountain Bookstore, Richmond, VA
Description
---
From the New York Times bestselling author of The Last House Guest—a Reese Witherspoon Book Club pick—comes a riveting new novel of psychological suspense about a young woman plagued by night terrors after a childhood trauma who wakes one evening to find a corpse at her feet.

Everyone knows the story of "the girl from Widow Hills."

Arden Maynor was just a child when she was swept away while sleepwalking during a terrifying rainstorm and went missing for days. Strangers and friends, neighbors and rescue workers, set up search parties and held vigils, praying for her safe return. Against all odds, she was found, alive, clinging to a storm drain. The girl from Widow Hills was a living miracle. Arden's mother wrote a book. Fame followed. Fans and fan letters, creeps, and stalkers. And every year, the anniversary. It all became too much. As soon as she was old enough, Arden changed her name and disappeared from the public eye.

Now a young woman living hundreds of miles away, Arden goes by Olivia. She's managed to stay off the radar for the last few years. But with the twentieth anniversary of her rescue approaching, the media will inevitably renew its interest in Arden. Where is she now? Soon Olivia feels like she's being watched and begins sleepwalking again, like she did long ago, even waking outside her home. Until late one night she jolts awake in her yard. At her feet is the corpse of a man she knows—from her previous life, as Arden Maynor.

And now, the girl from Widow Hills is about to become the center of the story, once again, in this propulsive page-turner from suspense master Megan Miranda.
About the Author
---
Megan Miranda is the New York Times bestselling author of All the Missing Girls, The Perfect Stranger, The Last House Guest, which was a Reese Witherspoon Book Club pick, The Girl from Widow Hills, Such a Quiet Place, The Last to Vanish, and The Only Survivors. She has also written several books for young adults. She grew up in New Jersey, graduated from MIT, and lives in North Carolina with her husband and two children. Follow @MeganLMiranda on Twitter and Instagram, @AuthorMeganMiranda on Facebook, or visit MeganMiranda.com.
Praise For…
---
"A hauntingly atmospheric and gorgeously written page-turner, The Girl from Widow Hills is a deeply thought-provoking, riveting mystery about the complex weight of history and the dangerous power of the lies we tell ourselves." —Kimberly McCreight, New York Times bestselling author of Reconstructing Amelia and A Good Marriage

"Sleep-walking is creepy. You're asleep, but you're walking through the night— like the living dead. I knew when I started The Girl from Widow Hills I was in for some shivers. But I had no idea the terrors that were in store." —R.L. Stine, bestselling author of Goosebumps and Fear Street

"With Hitchcockian flair, Megan Miranda shrewdly examines what becomes of the people at the center of those rare, sensational news stories that capture the nation's attention. The Girl from Widow Hills gave me the creeps in the best way possible." — Chandler Baker, New York Times bestselling author of Whisper Network

"Miranda flaunt[s] her considerable talent for jaw-dropping, yet believable, twists. Even jaded readers might not see this one coming. An unusual heroine anchors this creepy, fast-paced chiller. This is Miranda's best book yet." —KIRKUS REVIEWS

"Miranda, a best-selling author of thrillers for both adults and YAs, sprinkles the present-day narrative with transcripts and reports from Olivia's past, building suspense with startling plot twists that lead to a stunning climax. Another compulsive page-turner from an accomplished author." —Booklist

"This is a great whodunit, done well. Olivia/Arden narrates but Miranda (The Last House Guest) creatively uses media transcripts, newspaper reports, book excerpts, and voicemails to piece together her fragmented story that ends with a chilling twist." —Library Journal

"Psychological thriller fans will enjoy the ride." — Publishers Weekly

"The Girl from Widow Hills is a creepy, compelling portrait of a life forever warped by unwanted fame, a timely theme in this era of internet celebrity and the fall from grace that often follows. (There are strong echoes of the real life 1987 "Baby Jessica" media explosion, too, wherein a toddler fell deep into a Texas well and the nation breathlessly tuned in to CNN's live broadcast of the tension-filled, successful rescue effort.) It's a shivery kind of fun to wonder along with Olivia whether those close to her should be trusted or feared, and to urge her on as she races to unravel the past without unraveling her sanity." — Bookpage

"The small-town cast is drawn in shrewd, suspicion-arousing detail; you'll point fingers at someone new every few pages." — Martha Stewart Living

"With chilling twists and turns, this book will keep you captivated in the sand." — BookBub

"If you can relate to your past coming back to haunt you, then this book is for you." — PopSugar