8 Seconds of Courage: A Soldier's Story from Immigrant to the Medal of Honor (Hardcover)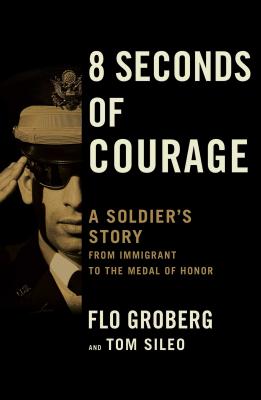 Description
---
A story of valor and the making of a hero—Florent Groberg, who grew up in France, emigrated to the US, and was the first immigrant in forty years to receive the Congressional Medal of Honor after he saved many lives by tackling a suicide bomber in Afghanistan.

Florent "Flo" Groberg was born in 1983, in the suburbs of Paris. When he was in middle school, his family moved to the US, and Flo became a naturalized citizen in 2001. After attending the University of Maryland, he joined the Army in 2008 and deployed to Afghanistan in 2009. He deployed a second time in 2012. In August of that year, Flo was guarding a high-level US-Afghan delegation and noticed someone suspicious: a local man stumbling toward his patrol. Flo reacted quickly and ran to tackle the man—who was wearing a suicide vest—before he could reach the patrol. Four people died in the subsequent explosion, but many others were spared. Flo himself was badly wounded and spent the next three years undergoing surgeries at Walter Reed Medical Center. On November 12, 2015, Captain Groberg was given the nation's highest military award, the Congressional Medal of Honor—the first immigrant to be so recognized since the Vietnam War.

8 Seconds of Courage tells Flo's story from his childhood in France to his decision to enlist and the grueling training he underwent at US Army Ranger School. Through trial and error, he learned to be a field commander and on the front lines in Afghanistan formed close and lasting bonds with his fellow soldiers. It was this powerful sense of responsibility that compelled him to take his brave action to save lives, even at the risk of his own.

Seldom when we hear about the heroism of Medal of Honor recipients do we learn what motivates their actions. Flo Groberg provides that essential insight into his selfless act of valor while honoring his four fallen brothers in arms. 8 Seconds of Courage is a story of heroism, sacrifice, and camaraderie in wartime.
About the Author
---
Flo Groberg was medically retired from the US Army in 2015. He is now director of veterans outreach for Boeing, where he leads community engagement in the eastern US. Prior to joining Boeing, he served in a similar capacity for LinkedIn. He lives in Washington, DC. 8 Seconds of Courage is his first book.

Tom Sileo coauthored two previous books about military heroes, including one about Flo Groberg, 8 Seconds of Courage. Currently a contributing senior editor at The Stream, Tom also spent eight years working in local and national newsrooms, including CNN. He lives in Delray Beach, Florida.
Praise For…
---
"Flo's incredible tale of bravery and service is also a stark reminder that for many of our warriors, coming home is not the end of the fight. Flo finds a way to live, not only with his injuries, but with purpose. . . to honor his fallen brothers and sisters. Truly an inspiration."
— Jon Stewart

"8 Seconds of Courage reminds readers of the resilient and courageous men and women who dedicate their lives in service to our nation. Captain Flo Groberg's selfless commitment to his country and fellow soldiers is truly inspiring."
— Donald Rumsfeld, former Secretary of Defense

"8 Seconds of Courage represents the ethos of the modern day warrior. Flo's incredible story highlights the everyday American soldiers willing to sacrifice it all for our way of life, our nation and most importantly each other."
— Clinton Romesha, Medal of Honor recipient and author of Red Platoon: A True Story of American Valor

"If you've ever wondered what the world looks like through the eyes of a real, living superhero, this book is for you."
— Capt. Garrison Haning

"What does it take to go hand to hand with a suicide bomber? In 8 Seconds of Courage, one of the few living recipients of the Medal of Honor tells us. Captain Flo Groberg, with the help of noted military affairs writer Tom Sileo, takes us inside his life and Army experiences before, during, and after his gallant, decisive act. Groberg writes with candor and humility. It's an immigrant's story. It's a soldier's story. And it is a classic American story."
— Daniel P. Bolger, Lieutenant General, U.S. Army (ret.), author of Our Year of War: Two Brothers, Vietnam, and a Nation Divided

"In 8 Seconds of Courage, written with Tom Sileo, Groberg takes readers through the many faces of war, from mundane assignments, to the reality of cheering for the gruesome death of your enemies, to the surreal notion that one misstep can cost lives."
— Kelyn Soong

"Offers insight into the profound sense of duty that drives members of the military while celebrating one man's extraordinary courage. An inspiring book about heroism and sacrifice."
— Kirkus Reviews