Rage Becomes Her: The Power of Women's Anger (Paperback)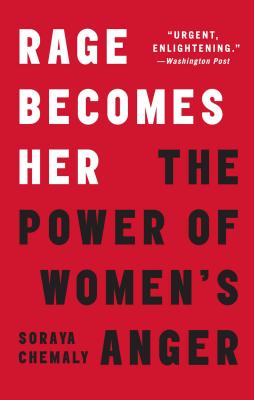 Description
---
***A BEST BOOK OF 2018 SELECTION***
NPR * The Washington Post * Book Riot * Autostraddle * Psychology Today

***A BEST FEMINIST BOOK SELECTION***
Refinery 29, Book Riot, Autostraddle, BITCH

Rage Becomes Her is an "utterly eye opening" (Bustle) book that gives voice to the causes, expressions, and possibilities of female rage.

As women, we've been urged for so long to bottle up our anger, letting it corrode our bodies and minds in ways we don't even realize. Yet there are so, so many legitimate reasons for us to feel angry, ranging from blatant, horrifying acts of misogyny to the subtle drip, drip drip of daily sexism that reinforces the absurdly damaging gender norms of our society.

In Rage Becomes Her, Soraya Chemaly argues that our anger is not only justified, it is also an active part of the solution. We are so often encouraged to resist our rage or punished for justifiably expressing it, yet how many remarkable achievements would never have gotten off the ground without the kernel of anger that fueled them? Approached with conscious intention, anger is a vital instrument, a radar for injustice and a catalyst for change. On the flip side, the societal and cultural belittlement of our anger is a cunning way of limiting and controlling our power—one we can no longer abide.

"A work of great spirit and verve" (Time), Rage Becomes Her is a validating, energizing read that will change the way you interact with the world around you.
About the Author
---
Soraya Chemaly is an award-winning writer and activist whose work focuses on the role of gender in culture, politics, religion, and media. She is the Director of the Women's Media Center Speech Project and an advocate for women's freedom of expression and expanded civic and political engagement. A prolific writer and speaker, her articles appear in Time, the Verge, The Guardian, The Nation, HuffPost, and The Atlantic. Follow her on Twitter at @SChemaly and learn more at SorayaChemaly.com.
Praise For…
---
"At turns enraging, comforting and inspiring, Rage Becomes Her is a must read." —NPR (Best Book of 2018)

"In this powerful essay collection, Chemaly draws on interviews, research, and personal experience to examine why patriarchal Western cultures continue to demand that women silence their rage …Intelligent and keenly observed, this is a bracingly liberating call for the right of women to own their anger and use it to benefit a society 'at risk for authoritarianism.' Important, timely, necessary reading." —Kirkus (starred review)

"How many women cry when angry because we've held it in for so long? How many discover that anger turned inward is depression? Soraya Chemaly's Rage Becomes Her will be good for women, and for the future of this country. After all, women have a lot to be angry about."
—Gloria Steinem

"[A] thoughtful, in-depth exploration of female rage...An essential and timely read...Invaluable and eye-opening. "
—Booklist (starred review)

"Rage is a battle-cry of a book, drawing on all corner of contemporary life, from media to education and medicine. She takes the reader through a woman's life, from infancy to adulthood, highlighting the systemic ways female rage is suppressed, diverted or minimalised. And she provides scientific evidence to back up her ideas. If life as a modern woman is maddening, then Rage is a sanity-restorer."
—The Guardian

"This explosive, vital and unapologetic book lifts the lid on a hugely important but little-discussed aspect of gender inequality. With skill, wit and sharp insight, Chemaly peels back layers of cultural norms and repression to lay bare the reality of women's rage. She joins the dots to trace the connections between misogyny, violence and the repression of female anger. She weaves a path that takes us from pornography to the playground, media to medicine. This book should make you furious. It is a battle cry for women's right to rage: teaching us that we have every right to be angry, and demanding that the world pays attention to that anger."
—Laura Bates, author of Girl Up and Everyday Sexism

"If you think Senator Warren persisted, meet Soraya Chemaly and her latest book, Rage Becomes Her…Men should read the book and the women in their lives must insist that they do so…Chemaly's book is giving voice to how women's voices have been suppressed. This book needs to be read."
—New York Journal of Books

"A timely, politically charged account of what it means to be an American woman today... For feminists, sociologists, and politically involved readers."
—Library Journal

"At this moment in history, when women's anger is at boiling point, this text could not be more timely. Or, more needed."
—Mashable

"In this breathtakingly (or maybe I should say breathgivingly…because it will literally make you feel like you can breathe again) liberating book, Soraya Chemaly breaks down the myriad ways that women are silenced, ignored, disrespected, dehumanized, and generally spat upon by the patriarchy…It's one of the best feminist books I've ever read and the first I will recommend the next time someone asks me why I'm a feminist."
—BookRiot

"Chemaly distills years of award-winning work in writing and activism into a single profound volume on women's rage and the complex systems of social control that silence the rage of women and weaponize the rage of men."
—Electric Literature

"Chemaly writes about injustice with vigor and flair, sharing her experiences as both a woman and the mother of daughters. She supports her conclusions with grim studies, most of them dispiritingly recent. 'Is it possible to read a book about anger and not get mad?' she asks at one point. Not if it's Rage Becomes Her. But as Chemaly shows, that's a good reason to read it."

—Shelf Awareness

"At this moment in history, when women's anger is at boiling point, this text could not be more timely. Or, more needed."
—Mashable

"Chemaly . . . writes with clear-eyed conviction."

—BookPage

"A necessary delve into a heated subject, Rage Becomes Her challenges the all-too-common perception of having an anger "problem," and works to demystify women's anger, transforming the difficult emotion into one that's as coveted as happiness."

—BUST Magazine

"Provocative... In Rage Becomes Her, Chemelay uses scientific research, in-depth interviews, and personal experiences to investigate why cultures around the world expect and even force women to keep their anger silent and their rage hidden. But more than that, she makes a case for why that pattern finally needs to be broken."
—Bustle

"Chemaly's collection of essays, shaped by research and personal experience... shows us how anger is truly one of our most potent resources for changing the world.
—SHONDALAND

"[A] provocative analysis… Calling for a 'wise anger' that can dismantle pervasive sexism and create a fundamentally democratic society, the book makes a persuasive case that angry women can achieve, not vengeance, but change."
—Publishers Weekly

"Women's anger is the last taboo. In this provocative examination of the forbidden, hidden emotion, Soraya Chemaly asks 'What do we lose, personally and as a society, by not listening to women's anger or respecting it?' Answer: the true voice of half of humanity. If you want to understand why #Metoo has swept the country, you need to read this book."
—Katha Pollitt, poet and columnist, author of Learning To Drive

"Soraya Chemaly turns her rigorous compassion, scrupulous fairness, and microscopically sharp clarity of thought on our culture's forced suppression of female anger…Our world will never be the same. And, yes, that's a threat."
—Lindy West, New York Times bestselling author of Shrill

"Soraya Chemaly issues a powerful clarion call to women to speak our truth and own our righteous anger during a time when nothing less than our rage will set us free."
—Jamia Wilson, Executive Director and Publisher, The Feminist Press

"With every chapter I felt more power flooding in where fear and shame once were. This is a book that could change your life, and the world."
—Jaclyn Friedman, author of Unscrewed

"Men should read this book to understand women; women should read this book to understand themselves. Rage Becomes Her could save your life."
—Robin Morgan, author