The Botany of Desire: A Plant's-Eye View of the World (MP3 CD)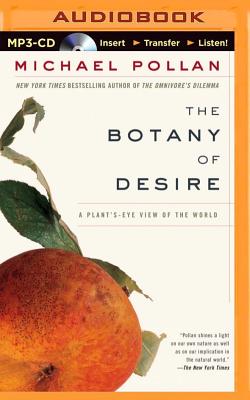 Staff Reviews
---
The Botany of Desire was a delicious and insightful read. I was unaware that I was reading a science book, or an essay. Pollan has a way of wrapping up his readers and teaching them the most complicated of aspects in such a way as sipping lemonade on the porch during summer. Reading this book was easy, even addictive. I was on vacation, traveling the beautiful Western countryside, and all I recall is sitting sideways in the back seat with my nose in this book. I chatted my companions' ears off, trying to portray the beauty I was reading, the fascinating aspects of tulips. How amazing these stories are! I will never see an apple the same way. Dare yourself to fall in love with science.
—
Jordan
Description
---
The book that helped make Michael Pollan, the New York Times bestselling author of Cooked and The Omnivore's Dilemma, one of the most trusted food experts in America.
Every schoolchild learns about the mutually beneficial dance of honeybees and flowers: the bee collects nectar and pollen to make honey and, in the process, spreads the flowers' genes far and wide. In The Botany of Desire, Michael Pollan ingeniously demonstrates how people and domesticated plants have formed a similarly reciprocal relationship. He masterfully links four fundamental human desires--sweetness, beauty, intoxication, and control--with the plants that satisfy them: the apple, the tulip, marijuana, and the potato. In telling the stories of four familiar species, Pollan illustrates how the plants have evolved to satisfy humankind's most basic yearnings. And just as we've benefited from these plants, we have also done well by them. So who is really domesticating whom?
Praise for the narrator: Scott Brick uses his skill with expression...to produce an audible intoxication. --AudioFile