Devil's Diary: Alfred Rosenberg and the Stolen Secrets of the Third Reich (Compact Disc)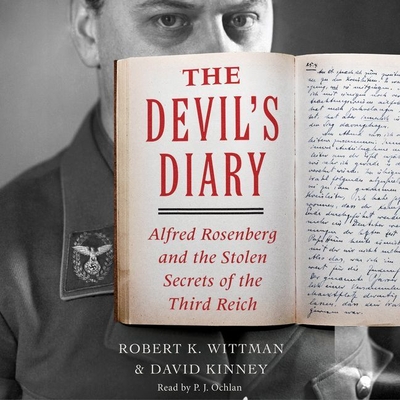 $44.99
Special Order - Subject to Availability
Staff Reviews
---
How could educated people put so much stock in an obvious tyrant? Why kind of person would endure years of hardship because he so much believed in a philosophy that was insanely cruel? Meet Alfred Rosenberg, one of the original and most loyal members of Hitler's inner circle. If you're unfamiliar with him, it wasn't due to his lack of trying. He was the "brains" of the outfit, author of books and articles and speeches designed to sway Germany in Hitler's direction. He also kept a diary, the center piece of this compelling historical mystery. Men like Rosenberg still haunt the internet, misdirecting the lonely and the angry, urging discontent and violent action. This book is not just gripping entertainment. It's an eternal warning.
—
Stephen
Description
---
This exploration of the private wartime diary of Alfred Rosenberg--Hitler's "chief philosopher" and architect of Nazi ideology--interweaves the story of its recent discovery with the revelation of its never-before-published contents, which are contextualized by the authors: The result is a unprecedented, page-turning narrative of the Nazi rise to power, the Holocaust, and Hitler's post-invasion plans for Russia.
A groundbreaking historical contribution, The Devil's Diary is a chilling window into the mind of Adolf Hitler's "chief social philosopher," Alfred Rosenberg, who formulated some of the guiding principles behind the Third Reich's genocidal crusade. It also chronicles the thrilling detective hunt for the diary, which disappeared after the Nuremburg Trials and remained lost for almost three quarters of a century, until Robert Wittman, a former FBI special agent who founded the Bureau's Art Crimes Team, played an important role and tells his story now for the first time.
The authors expertly and deftly contextualize more than 400 pages of entries stretching from 1936 through 1944, in which the loyal Hitler advisor recounts internal meetings with the F rher and his close associates Hermann G ring and Heinrich Himmler; describes the post-invasion occupation of the Soviet Union; considers the "solution" to the "Jewish question;" and discusses his overseeing of the mass seizure and cataloguing of books and artwork from homes, libraries, and museums across occupied Europe. An eyewitness to events, this narrative of Rosenberg's diary offers provocative and intimate insights into pivotal moments in the war and the notorious Nazi who laid the philosophical foundations of the Third Reich.