The Wine Table: Recipes and Pairings from Winemakers' Kitchens (Hardcover)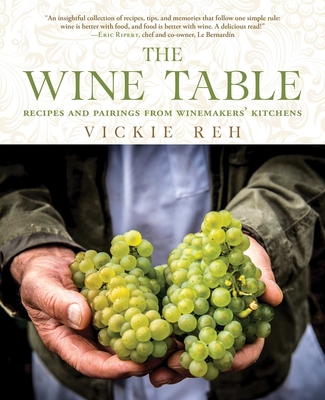 $49.99
Special Order - Subject to Availability
Description
---
***Named one of the Best Cookbooks of 2018 by The Washington Post***

This book combines a love of food and wine with history, culture, and plenty of personal touch.
We all dream of tasting our way through Burgundy, walking through vineyards in Champagne with a winemaker, or dining late into the night on a winery balcony in Chianti. Who better to guide you than someone whose passion and years in the food and wine industry have led to travels and friendship with winemakers all over the world? Vickie Reh takes us right into the kitchen with winemakers—what do
they
eat during harvest? What do they drink to celebrate the holidays? Which foods pair best with their wines, and why? How does this vary from region to region?
The Wine Table
will discuss basics and essentials in food and wine including meeting your local farmer, stocking your pantry, and how to buy and store wine.
We will then travel with the author through various regions of France and Italy, visiting winemakers in their homes to share their stories, cook with them, and enjoy their recipes. Specialties include:  
Choucroute Garnie from Domaine Weinbach, Alsace, France
Squab and Penne Pie from Agricole Lo Sparviere, Franciacorta, Italy
Sole à la Meunière from Domaine Lucien Crochet, Sancerre, France
Pork Rillettes from Domaine La Grange Tiphaine, Montlouis, France
Guinea Fowl en Papillote from Champagne Roses de Jeanne, Aube, France
Pesto Trapanese from Arianna Occhipinti, Sicily, Italy
About the Author
---
Vickie Reh is a chef and certified sommelier who has spent her life researching food and wine traditions. Her forays have taken her to family kitchens in obscure wine regions, elegant palazzos, modern showcase wineries and respected restaurant kitchens—from France to California, from Sicily to the Italian Alps, from Portugal to Virginia. When not traveling, Vickie has spent years on both sides of the kitchen door alternating between roles as Chef, Wine Director, Wine Consultant, and Tour Guide with stints in Washington DC at Buck's Fishing & Camping, Comet Ping Pong, and Arrowine and Cheese. Currently combining her two loves, cooking and wine, Vickie is Chef and Wine Director at Via Umbria in Georgetown.
Praise For…
---
"This is an ambitious effort to gather inside intel and connect the dots between Eurocentric regional cuisines and wines—something even casual lovers of the grape could benefit from." 
—The Washington Post

"Wow! What a beautifully written book—the tone, the passion, and the authenticity of pairing wine and food shines through. Vickie brings history and geography alive while putting us in the shoes of the wine maker and their harvest table."
—Carla Hall, co-host of The Chew, restaurateur, and author

"The Wine Table is an insightful collection of recipes, tips, and memories that follow one simple rule: wine is better with food, and food is better with wine. A delicious read!"
—Eric Ripert, chef & co-owner, Le Bernardin

"We seem to be living in a golden age with new wine books and blogs happening almost every day, yet so many of them seem to miss the mark and forget what makes wine so special—the people behind the labels and the human connections we all share. I am happy to say that Vickie has not made that mistake. Her book is overflowing with joy, love, and respect for the culture of celebrating wine with food with people. I am often asked what my favorite wine is, and all of my favorites (yes, it is more than one favorite) are tied to memories of whom and what we were doing when we had the wine; this book nails that premise and provides the template to recreate the meals in your own kitchen. The book is like a mix-tape of nothing but great French and Italian memories/experiences of wine, food, and people; an awesome way to travel without leaving home."
—Keith Goldston, Master Sommelier, Court of Master Sommeliers

"Winemakers, living in beautiful places, celebrating heritage and tradition, drinking fabulously, and eating equally so, Vickie brings all of the romance of winemaking and the legacy of its culture into the home kitchen through her intimate portraits of friends."
—Barton Seaver, chef and author of American Seafood

"The Wine Table takes us through the vineyards and kitchens of winemakers across France and Italy. With recipes and tips on selecting and savoring the wines, join Vickie Reh on a delicious journey through the best winemaking regions in Europe. You'll savor every bite—and sip—of the trip!"
—David Lebovitz, author of My Paris Kitchen

"Wow! What a beautifully written book—the tone, the passion, and the authenticity of pairing wine and food shines through. Vickie brings history and geography alive while putting us in the shoes of the wine maker and their harvest table." —Carla Hall, co-host of The Chew, restaurateur, and author

"The Wine Table is an insightful collection of recipes, tips, and memories that follow one simple rule: wine is better with food, and food is better with wine. A delicious read!" —Eric Ripert, chef & co-owner, Le Bernardin

"We seem to be living in a golden age with new wine books and blogs happening almost every day, yet so many of them seem to miss the mark and forget what makes wine so special—the people behind the labels and the human connections we all share. I am happy to say that Vickie has not made that mistake. Her book is overflowing with joy, love, and respect for the culture of celebrating wine with food with people. I am often asked what my favorite wine is, and all of my favorites (yes, it is more than one favorite) are tied to memories of whom and what we were doing when we had the wine; this book nails that premise and provides the template to recreate the meals in your own kitchen. The book is like a mix-tape of nothing but great French and Italian memories/experiences of wine, food, and people; an awesome way to travel without leaving home." —Keith Goldston, Master Sommelier, Court of Master Sommeliers

"Winemakers, living in beautiful places, celebrating heritage and tradition, drinking fabulously, and eating equally so, Vickie brings all of the romance of winemaking and the legacy of its culture into the home kitchen through her intimate portraits of friends." —Barton Seaver, chef and author of American Seafood

"The Wine Table takes us through the vineyards and kitchens of winemakers across France and Italy. With recipes and tips on selecting and savoring the wines, join Vickie Reh on a delicious journey through the best winemaking regions in Europe. You'll savor every bite—and sip—of the trip!" —David Lebovitz, author of My Paris Kitchen