The Art of French Kissing (Paperback)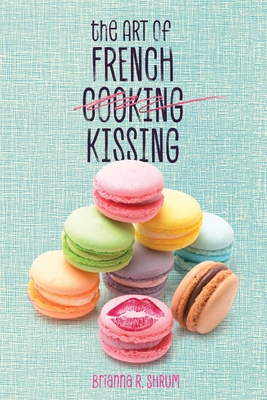 $8.99

Special Order - Subject to Availability
Description
---
Seventeen-year-old Carter Lane has wanted to be a chef since she was old enough to ignore her mom's warnings to stay away from the hot stove. And now she has the chance of a lifetime: a prestigious scholarship competition in Savannah, where students compete all summer in Chopped style challenges for a full-ride to one of the best culinary schools in the country. The only impossible challenge ingredient in her basket: Reid Yamada.

After Reid, her cute but unbearably cocky opponent, goes out of his way to screw her over on day one, Carter vows revenge, and soon they're involved in a full-fledged culinary war. Just as the tension between them reaches its boiling point, Carter and Reid are forced to work together if they want to win, and Carter begins to wonder if Reid's constant presence in her brain is about more than rivalry. And if maybe her desire to smack his mouth doesn't necessarily cancel out her desire to kiss it.
About the Author
---
Brianna R. Shrum has been writing since she could scrawl letters. She digs all things bookish, geeky, superhero-y, gamer-y, magical, and strange. You can usually find her writing under her Harry Potter tree, and drinking chai (which she holds as proof of magic in the world.) She is also the author of How to Make Out and Never Never. She lives in Colorado with her high-school-sweetheart-turned-husband and her two little boys.
Praise For…
---
"Fun, flirty, foodie, and filled with way more heat than your average kitchen, The Art of French Kissing has all the ingredients for a perfect summer romance!" —Dahlia Adler, author of Behind the Scenes

"I ate up this hate-to-love-and-back-again romance! If you love Top Chef but wish more of the show was focused on the romance and rivalries behind the scenes, you'll eagerly devour The Art of French Kissing. Like the best sweet and savory pastries, Carter and Reid deliver both sugar and spice." —Amy Spalding, author of The Summer of Jordi Perez (and the Best Burger in Los Angeles)

"This meet-cute romance stands out thanks to the nuanced characters and subtle treatment of bigger issues such as race, gender, and money (Carter's family flirts with poverty). Carter's insecurities about her culinary skill will resonate with any girl who has aspirations in a field dominated by males, and a sensitive sex scene models for readers what a consensual relationship looks like. A full cast of diverse characters, including Indian-American competitors, Carter's lesbian best friend, and Reid himself, who identifies as queer, are portrayed three-dimensionally, but Shrum's (How to Make Out, 2016, etc.) greatest accomplishment may be the intricate and mouthwatering descriptions of each dish. A thoughtful and delicious romance." —Kirkus Reviews

"Fun, flirty, foodie, and filled with way more heat than your average kitchen, The Art of French Kissing has all the ingredients for a perfect summer romance!" —Dahlia Adler, author of Behind the Scenes

"I ate up this hate-to-love-and-back-again romance! If you love Top Chef but wish more of the show was focused on the romance and rivalries behind the scenes, you'll eagerly devour The Art of French Kissing. Like the best sweet and savory pastries, Carter and Reid deliver both sugar and spice." —Amy Spalding, author of The Summer of Jordi Perez (and the Best Burger in Los Angeles)

"This meet-cute romance stands out thanks to the nuanced characters and subtle treatment of bigger issues such as race, gender, and money (Carter's family flirts with poverty). Carter's insecurities about her culinary skill will resonate with any girl who has aspirations in a field dominated by males, and a sensitive sex scene models for readers what a consensual relationship looks like. A full cast of diverse characters, including Indian-American competitors, Carter's lesbian best friend, and Reid himself, who identifies as queer, are portrayed three-dimensionally, but Shrum's (How to Make Out, 2016, etc.) greatest accomplishment may be the intricate and mouthwatering descriptions of each dish. A thoughtful and delicious romance." —Kirkus Reviews