Golf's Life Lessons: 55 Inspirational Tales about Jack Nicklaus, Ben Hogan, Bobby Jones, and Others (Hardcover)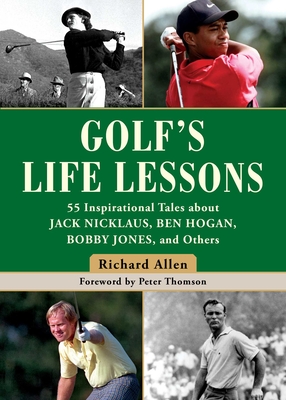 Description
---
Insight from the likes of Tiger Woods, Jack Nicklaus, Gary Player, Bobby Jones, Walter Hagen, Bob Hope, Lee Trevino, Ben Hogan, and many others.
Both life and golf can offer frustrations and also important lessons on topics ranging from "grinding it out" to versatility, sportsmanship, honesty, and of course confidence. In the words of Grantland Rice, "Like life, golf can be humbling. However, little good comes from brooding about mistakes we've made. The next shot, in golf or life, is the big one." Here is advice on:
Honesty and self belief
Perspective and consistence
Patience and attention to details
Sportsmanship and courage
Toughness and tenacity
Preparative and concentration
And much much more!
In
Golf's Life Lessons
, Richard Allen details 55 life lessons that we can learn from time spent on the golf course. "Golf is both deceptively simple and endlessly complex. It is humbling, gratifying, maddening, and unfair. This is why there is no better sporting metaphor for life."
Through anecdotes on the pros, golfers of all skill levels can discover that it's not only how well you putt or chip, but also how you respond mentally to golf's—and life's—many roadblocks. This book makes the perfect gift for duffers and professionals alike!
About the Author
---
Richard Allen has written about golf for more than twenty years. He has written ten books.

Peter Thomson (1929–2018) was an Australian professional golfer and five-time Open Championship winner.