The Case Against Impeaching Trump (Hardcover)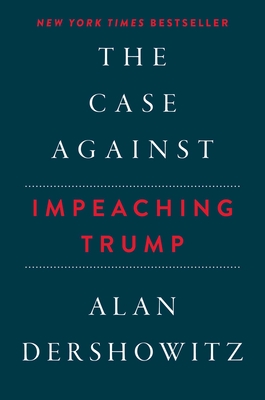 $21.99
Email or call for price.
Description
---
The New York Times bestseller!

"A brilliant lawyer...A new and very important book. I would encourage all people...to read!"—President Donald J. Trump

"Absolutely amazing…. If you care about justice...you're going to want to read this book."—Sean Hannity

"Maybe the question isn't what happened to Alan Dershowitz. Maybe it's what happened to everyone else."—Politico

Alan Dershowitz has been called "one of the most prominent and consistent defenders of civil liberties in America" by Politico and "the nation's most peripatetic civil liberties lawyer and one of its most distinguished defenders of individual rights" by Newsweek. Yet he has come under partisan fire for applying those same principles to Donald Trump during the course of his many appearances in national media outlets as an expert resource on civil and constitutional law.

The Case Against Impeaching Trump seeks to reorient the debate over impeachment to the same standard that Dershowitz has continued to uphold for decades: the law of the United States of America, as established by the Constitution. In the author's own words:

"In the fervor to impeach President Trump, his political enemies have ignored the text of the Constitution. As a civil libertarian who voted against Trump, I remind those who would impeach him not to run roughshod over a document that has protected us all for two and a quarter centuries. In this case against impeachment, I make arguments similar to those I made against the impeachment of President Bill Clinton (and that I would be making had Hillary Clinton been elected and Republicans were seeking to impeach her). Impeachment and removal of a president are not entirely political decisions by Congress. Every member takes an oath to uphold the Constitution of the United States, and the Constitution sets out specific substantive criteria that MUST be met.

I am thrilled to contribute to this important debate and especially that my book will be so quickly available to readers so they can make up their own minds."
About the Author
---
Alan Dershowitz is one of the most famous and celebrated lawyers in America. He was the youngest full professor in Harvard Law School history, where he is now the Felix Frankfurter Professor of Law, Emeritus. The author of numerous bestselling books, from Chutzpah to The Best Defense to Reversal of Fortune (which was made into an Academy Award-winning film) and to The Case for Israel, Dershowitz has advised and defended many of the most famous legal cases of the past fifty years, including O.J. Simpson, Anatoly Sharansky, Michael Milken, Claus von Bulow, and Mike Tyson.
Praise For…
---
"Alan Dershowitz is a brilliant lawyer...He has written a new and very important book called The Case Against Impeaching Trump, which I would encourage all people...to read!"—President Donald Trump

"This brand new book by Professor Dershowitz is absolutely amazing….If you care about justice and the President with the witch hunt, you're going to want to read this book."—Sean Hannity

Praise for Alan Dershowitz and his past work:

"There are great legal minds; there are those who can also communicate well on television; then there is Dershowitz. The professor is uniquely capable of arguing a position, while putting a premium on legal and ethical legitimacy, not its popularity. Bravo, Dershowitz!"
—Chris Cuomo, anchor and reporter, CNN

"Anyone interested in the true merits of criminal law and very fine writing must read Alan Dershowitz's book."
—Truman Capote

"A quintessential example of truth overcoming lies."
—Benjamin Netanyahu, Prime Minister of Israel

"Alan Dershowitz speaks with great passion and personal courage."
—Elie Wiesel

"Love him or hate him, Dershowitz has lived a life that matters, hugely and enduringly. He is a man in full at a time when most of us aspire to be little more than a presence on Twitter."
—New York Times Book Review

"Courage and principle are rare today. Professor Dershowitz has them both."
—Senator Ted Cruz

"Alan Dershowitz doesn't twist the constitution to fit an agenda. He tells you what it REALLY means. That's why he has always been my go-to guy on the law and the Constitution."
—Greta Van Susteren, former anchor at CNN, Fox News Channel, and MSNBC

"This book will reinforce Alan Dershowitz's well-earned reputation as a brilliant legal analyst who, although often swimming against the established current, is usually right…His analysis seems flawless to me."
—Harvey A. Silverglate, criminal and civil liberties lawyer, author of Three Felonies a Day: How the Feds Target the Innocent

"If Dershowitz isn't getting in your face about something, it s as if he's not doing his job. "
—The Boston Globe

"Mr. Dershowitz is an intellectual heavyweight."
—The Economist

"Alan Dershowitz is a brilliant lawyer...He has written a new and very important book called The Case Against Impeaching Trump, which I would encourage all people...to read!"—President Donald Trump

"This brand new book by Professor Dershowitz is absolutely amazing….If you care about justice and the President with the witch hunt, you're going to want to read this book."—Sean Hannity

Praise for Alan Dershowitz and his past work:

"There are great legal minds; there are those who can also communicate well on television; then there is Dershowitz. The professor is uniquely capable of arguing a position, while putting a premium on legal and ethical legitimacy, not its popularity. Bravo, Dershowitz!"
—Chris Cuomo, anchor and reporter, CNN

"Anyone interested in the true merits of criminal law and very fine writing must read Alan Dershowitz's book."
—Truman Capote

"A quintessential example of truth overcoming lies."
—Benjamin Netanyahu, Prime Minister of Israel

"Alan Dershowitz speaks with great passion and personal courage."
—Elie Wiesel

"Love him or hate him, Dershowitz has lived a life that matters, hugely and enduringly. He is a man in full at a time when most of us aspire to be little more than a presence on Twitter."
—New York Times Book Review

"Courage and principle are rare today. Professor Dershowitz has them both."
—Senator Ted Cruz

"Alan Dershowitz doesn't twist the constitution to fit an agenda. He tells you what it REALLY means. That's why he has always been my go-to guy on the law and the Constitution."
—Greta Van Susteren, former anchor at CNN, Fox News Channel, and MSNBC

"This book will reinforce Alan Dershowitz's well-earned reputation as a brilliant legal analyst who, although often swimming against the established current, is usually right…His analysis seems flawless to me."
—Harvey A. Silverglate, criminal and civil liberties lawyer, author of Three Felonies a Day: How the Feds Target the Innocent

"If Dershowitz isn't getting in your face about something, it s as if he's not doing his job. "
—The Boston Globe

"Mr. Dershowitz is an intellectual heavyweight."
—The Economist