The Autoimmune Solution: Learn how to Prevent and Overcome Inflammatory Disease (Paperback)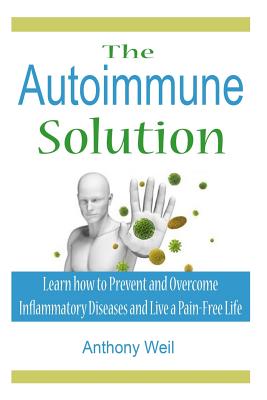 $6.99

Not Available In-Store - Usually Ships from Warehouse in 1-5 Days
Description
---
The Autoimmune Solution
Learn how to Prevent and Overcome Inflammatory Diseases and Live a Pain-Free Life
Today only, get this Kindle book for just $6.99.
Recent reports have shown an alarming upwards trend in autoimmune disease diagnosis, including type 1 diabetes, celiac disease and lupus. The American Diabetes Association reported a 23 percent increase in type 1 diabetes over an eight-year research period that ended in 2009. Type 1 Diabetes is caused from genetics and environmental factors. With such a rapid rise in diabetes over such a short span of time, it is believed that environmental factors are the main contributors to the recent upward spike since genes do not change that quickly. According to Virginia T. Ladd, President and Executive Director of the American Autoimmune Related Disease Association (AARDA), autoimmune disease is an epidemic that should be of great concern to the government and health professionals. In "The Autoimmune Solution: Learn how to Prevent and Overcome Inflammatory Diseases and Live a Pain-Free Life" you will learn about autoimmune disease and possible contributing factors. Most importantly you will be given alternatives to conventional, and possibly dangerous, medication, in order to start your healing process from within. Do you suffer from type 1 diabetes, celiac disease, rheumatoid arthritis, lupus, multiple sclerosis, inflammatory bowel disease (IBD), psoriasis, or another "common" autoimmune disease? Then I highly recommend you click the purchase button above and read on. Here are some questions that this book will answer:
What is the Immune System?
What is Autoimmune Disease?
What is Leaky Gut?
What are treatments with Functional Medicine?
What are treatments with Alternative Medicine?

Much, much more
Scroll up and purchase your copy today Take action today and make the conscious choice to start understanding Autoimmune Disease and give your body the chance to start its healing process from within.
Tags: autoimmune disease, leaky gut, Type 1 Diabetes, Celiac Disease, Multiple Sclerosis, Psoriasis, Graves' Disease, Hashimoto, Myasthenia Gravis, Vasculitis, Inflammatory Bowel Disease, IBD, IBS, Lupus, Fatigue, Depression, Inflammation, Swelling, Redness, Cure, Healing, Medicine.