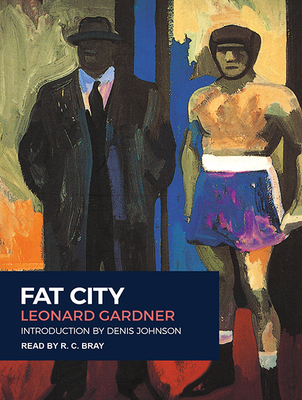 $24.99
Email or call for price.
Staff Reviews
---
Leonard Gardner's Fat City is Rocky, stripped of all its romance and inspiration. Boxers in depression era Northern California, Ernie Munger, at the beginning of his career, and Billy Tully, at the end of his struggle with booze, women, money, and the misguided belief that if they keep fighting things just might change. There is no big fight, though, no moral victory and life-changing payday waiting around the corner. Their common thread is mutual trainer Ruben, who tries to hold together their lives and psyches but fails at every step in the face of their self-destructive natures and resentment of authority. An old-fashioned hardboiled novel full of desperation and pain, and teeming with life, this forgotten American masterpiece feels just as fresh and important as it did when originally published in the 60's.
—
Danny
Description
---
Fat City is a vivid novel of defiance and struggle, of the potent promise of the good life and the desperation and drink that waylay those whom it eludes. Stockton, California, is the novel's setting: the Lido Gym, the Hotel Coma, Main Street's lunchrooms and dark bars offer a temporary respite to the men and women whose backbreaking work in the fields barely allows them to make a living. When two men meet in the gym-the ex-boxer Billy Tully and the novice Ernie Munger-their brief sparring session sets into motion their hidden fates, initiating young Munger into the "company of men" and luring Tully back into training. Fat City tells of their anxieties and hopes, their loves and losses, and the stubborn determination of their manager, Ruben Luna, who knows that even the most promising kid is likely to fall prey to some weakness. Then again, "There was always someone who wanted to fight.