A Thousand Lives: The Untold Story of Hope, Deception, and Survival at Jonestown (MP3 CD)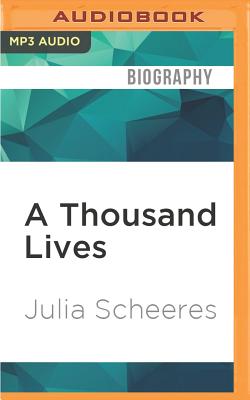 Staff Reviews
---
Perhaps the scariest book in the store, but also one of the most moving. Scheeres reexamines the infamous story of Jonestown, drawing from previously unreleased documents and focusing on four of the tragedy's survivors. What she delivers is an epic study about how what's best in human beings -- empathy, love, sharing, a desire to do good works -- can be twisted and deformed under the control of a malignant leader. Why do people join cults? Why do they become terrorists? How can they believe ridiculous doctrines? Read this book and you'll come closer to an understanding. And the story's supreme monster, the Reverend Jim Jones, may very well haunt your nightmares.
—
Stephen
October 2011 Indie Next List
---
"How could a racially progressive preacher in San Francisco lead more than 900 people to group suicide? How could dozens of parents ever come to poison their children? Even this riveting piece of journalism can't fully answer such grueling questions, but Scheeres does an excellent job humanizing this tragedy while poignantly showing the evolution from hope and belief to desperation."
— Pete Mulvihill, Green Apple Books, San Francisco, CA
Description
---
They left America for the jungles of Guyana to start a better life. Yet what started as a Utopian dream soon devolved into a terrifying work camp run by a madman, ending in the mass murder-suicide of 914 members in November 1978.
In A Thousand Lives, the New York Times bestselling memoirist Julia Scheeres traces the fates of five individuals who followed Jim Jones to South America as they struggled to first build their paradise, and then survive it. Each went for different reasons--some were drawn to Jones for his progressive attitudes towards racial equality, others were dazzled by his claims to be a faith healer. But once in Guyana, Jones' drug addiction, mental decay, and sexual depredations quickly eroded the idealistic community.
For this groundbreaking book, Scheeres examined more than 50,000 pages of newly released documents that the FBI collected from the camp after the massacre--including diaries, crop reports, and letters that were never sent home--as well as hundreds of audiotapes of Jones addressing his group.
Scherer's own experience at a religious boot camp in the Dominican Republic, detailed in her unforgettable debut memoir Jesus Land, gives her unique insight into this chilling tale.
Haunting and vividly written, A Thousand Lives is a story of blind loyalty and daring escapes, of corrupted ideals and senseless, searing loss.