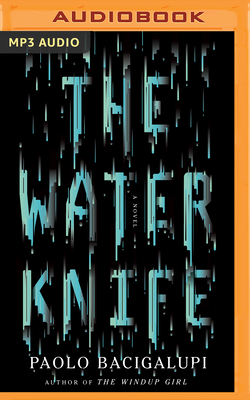 $9.99

Special Order - Subject to Availability
Staff Reviews
---
Since reading Bacigalupi's The Windup Girl, I've found myself continuously wondering about the dangers of corporate-driven crops and the loss of precious biodiversity in the world. Bacigalupi expertly tackles another powerful environmental motif in The Water Knife: water. In the not-so-distant future, Southwest states battle over the ever-dwindling Colorado River and water companies guard reserves like gold. With Lake Mead's record-low levels and infamous "bathtub ring" as an ominous symbol of severe drought even now, water is more precious than ever. Follow protagonist Angel Velazquez, who works for the Southern Nevada Water Authority as a spy and assassin, as he sabotages water supply and ends up in crumbling Phoenix. Follow Lucy, too, a journalist who stuck around to document the city's drought-driven descent. Bacigalupi's passion for legitimate research-based writing and all-too-real possibilities bring this dystopian-style novel to life. With compelling characters and vivid diction, he paints a grim picture of a reality that isn't too far off if measures aren't taken to protect the inestimable resource that gives this arid area vibrant life.
—
Becky
June 2015 Indie Next List
---
"The near-future depicted in The Water Knife is disturbing and disorienting in its familiarity. Imagine an America so scraped away by ecological disasters - hurricanes, dust storms, and drought - and the brutal struggle to control the water supply that results in a refugee crisis in the Southwest rivaling those that have devastated third world nations. This book moves like a high-octane thriller but includes a wealth of warnings about where America and the world at large may be headed: a dark future where the brutal reality of everyday survival makes people, corporations, and governments do terrible things. The Water Knife may turn out to be 2015's most talked about book."
— Vladimir Verano, Third Place Books, Lake Forest Park, WA
Description
---
Paolo Bacigalupi, New York Times bestselling author and National Book Award Finalist, dives once again onto our uncertain future with his first thriller for adults since his multi-award winning debut phenomenon The Windup Girl.
In the American Southwest, Nevada, Arizona, and California skirmish for dwindling shares of the Colorado River. Into the fray steps Angel Velasquez, detective, leg-breaker, assassin, and spy. A Las Vegas water knife, Angel "cuts" water for his boss, Catherine Case, ensuring that her lush, luxurious arcology developments can bloom in the desert, so the rich can stay wet, while the poor get nothing but dust. When rumors of a game-changing water source surface in drought-ravaged Phoenix, Angel is sent to investigate. There, he encounters Lucy Monroe, a hardened journalist with no love for Vegas and every reason to hate Angel, and Maria Villarosa, a young Texas refugee who survives by her wits and street smarts in a city that despises everything that she represents.
With bodies piling up, bullets flying, and Phoenix teetering on collapse, it seems like California is making a power play to monopolize the life-giving flow of a river. For Angel, Lucy, and Maria time is running out and their only hope for survival rests in each other's hands. But when water is more valuable than gold, alliances shift like sand, and the only thing for certain is that someone will have to bleed if anyone hopes to drink.