Coach the Person, Not the Problem: A Guide to Using Reflective Inquiry (Paperback)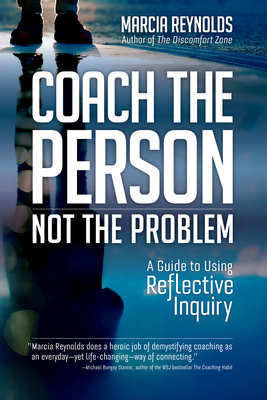 $26.95

Not Available In-Store - Usually Ships from Warehouse in 1-5 Days
Description
---
From a founding member of the coaching movement comes a detailed guide to mastering one of a coach's toughest skills: thoughtfully reflecting clients' words and expressions back to them so they see themselves and their world through new eyes.

"Coaches rely far too much on asking open-ended questions," says Marcia Reynolds. But questions only seek answers--inquiry provides insight. When, instead of just questions, clients hear their thoughts, opinions, and beliefs spoken by someone else, it prompts them to critically consider how their thinking affects their goals. Reynolds cites the latest brain science to show why reflective inquiry works and provides techniques, tips, and structures for creating breakthrough conversations.

This book will free coaches from the cult of asking the magical question by offering five essential practices of reflective inquiry: focus on the person, not the problem; summarize what is heard and expressed; identify underlying beliefs and assumptions; unwrap the desired outcome; and articulate insights and commitments. Using these practices, combined with a respectful and caring presence, helps create a space where clients feel safe, seen, and valued for who they are. Coaches become change agents who actively recharge the human spirit. And clients naturally dive deeper and develop personalized solutions that may surprise even the coach.
About the Author
---
Marcia Reynolds, PsyD, Master Certified Coach, is president of Covisioning, a leadership training and coaching firm. She holds a doctoral degree in organizational psychology and master's degrees in education and communications. She is a former International Coaching Federation global president and has been hired by organizations to teach coaching skills across Southern Europe, Africa, Asia-Pacific, Russia, China, and North America. She is the author of five books, including Outsmart Your Brain, Wander Woman, and The Discomfort Zone.
Praise For…
---
"Marcia, in her straightforward, brilliantly articulate way, navigates us to simplicity from the far side of complexity in her definitive guide to breakthrough coaching."
—Madeleine Homan Blanchard, MCC, MSc, cofounder of Coaching Services, The Ken Blanchard Companies
 
"Dr. Reynolds provokes the reader to explore ways of partnering with clients and coaching beyond the 'sacred cows' and rigidly prescribed questioning techniques. She also does a great service to the profession by elevating the conversation above conflicting coaching schools and cults, urging us to refocus again on the human being we partner with."
—Konstantin Korotov, PhD, Professor of Organizational Behavior, ESMT Berlin
 
"Dr. Reynolds once again gives great guidance and tools based on years of work with the human mind. She provides a framework for self-discovery where participants partner with coaches in their journey to better maneuver through problems to ultimately reach their potential."
—Krista Endsley, Software CEO and Board Member, MemberSuites, Inc.