The Forever Witness: How DNA and Genealogy Solved a Cold Case Double Murder (Hardcover)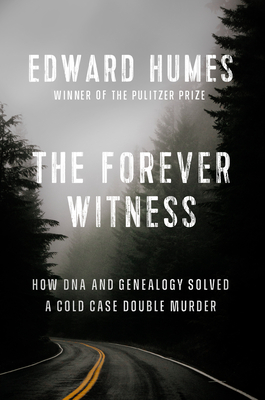 $28.00

Not Available In-Store - Usually Ships from Warehouse in 1-5 Days
Description
---
"Thought-provoking true-crime thriller…the book raises urgent questions of balancing public and private good that we'll likely be dealing with as long as the title implies."—Wall Street Journal

A relentless detective and a civilian genealogist solve a haunting cold case—and launch a crime-fighting revolution that tests the fragile line between justice and privacy.
 
In November 1987, a young couple from the idyllic suburbs of Vancouver Island on an overnight trip to Seattle vanished without a trace. A week later, the bodies of Tanya Van Cuylenborg and her boyfriend Jay Cook were found in rural Washington. It was a brutal crime, and it was the perfect crime: With few clues and no witnesses in the vast and foreboding Olympic Peninsula, an international manhunt turned up empty, and the sensational case that shocked the Pacific Northwest gradually slipped from the headlines.
 
In deep-freeze, long-term storage, biological evidence from the crime sat waiting, as Detective Jim Scharf poured over old case files looking for clues his predecessors missed. Meanwhile, 1,200 miles away in California, CeCe Moore began her lifelong fascination with genetic genealogy, a powerful forensic tool that emerged not from the crime lab, but through the wildly popular home DNA ancestry tests purchased by more than 40 million Americans. When Scharf decided to send the cold case's decades-old DNA to Parabon NanoLabs, he hoped he would finally bring closure to the Van Cuylenborg and Cook families. He didn't know that he and Moore would make history.
 
Genetic genealogy, long the province of family tree hobbyists and adoptees seeking their birth families, has made headlines as a cold case solution machine, capable of exposing the darkest secrets of seemingly upstanding citizens. In the hands of a tenacious detective like Scharf, genetic genealogy has solved one baffling killing after another. But as this crime-fighting technique spreads, its sheer power has sparked a national debate: Can we use DNA to catch the murderers among us, yet still protect our last shred of privacy in the digital age—the right to the very blueprint of who we are?
About the Author
---
Edward Humes is a Pulitzer Prize–winning journalist and author whose fifteen previous books include Burned, Mississippi Mud, and the PEN Award–winning No Matter How Loud I Shout. He splits his time between Seattle and Southern California.
Praise For…
---
"Whether one is interested in cold case puzzles or genealogy, or just curious about solving crimes, The Forever Witness should be read and reread until it becomes a dog-eared part of one's library."
—New York Journal of Books

"This book was fabulous. The Forever Witness was thorough, informative, and deeply emotional."
—True Crime Index

"Thoughtful true-crime."
—People

"Humes' writing is suspenseful yet also journalistic, providing fascinating details about the case, technological advances in police work, and genetic genealogy. A winner for any fan of true crime."
—Booklist (starred review)

"Stellar true crime account… Humes matches taut prose with assured storytelling. This fascinating look at how technology has revolutionized crime solving is must reading."
—Publishers Weekly (starred review)

"Fans of Michelle McNamara's acclaimed I'll Be Gone in the Dark should clear their schedules, because Edward Humes' riveting account is nearly impossible to put down…The Forever Witness has earned a well-deserved place among top-notch true crime." 
—Bookpage (starred review)

"A well-paced true-crime procedural that offers new twists on old methods of police work."
—Kirkus

"An excellent addition to any true crime collection, this one is sure to intrigue readers who are interested in delving deeper into the hows and whys of solving cold cases."
—Library Journal

"Some detectives never give up, and in this expert retelling, you'll follow Jim Scharf as he attempts to crack the coldest of cases: A golden young couple abducted and murdered in Washington state in 1987, with almost no clues left behind. This book is that rare thing, terrifying true crime told with a beating heart." 
—Maureen Callahan, New York Times bestselling author of American Predator

"In this brilliantly told, addictively readable book, Edward Humes reminds us that the term "cold case" is misleading, that unsolved murders simmer for decades with angry life and grief and the long-shadow of justice denied. And he also reminds us to hope that the answers to our most stubborn mysteries can yet be found if we simply refuse to give up on them." 
—Deborah Blum, New York Times bestselling author of The Poisoner's Handbook: Murder and the Birth of Forensic Medicine in Jazz-Age New York

"The Forever Witness is a remarkable achievement in true crime reporting, as Edward Humes brilliantly guides readers through a cold case investigation that's smart, suspenseful, and on the cutting edge of forensic science. This book will keep you reading well into the night."
—Gilbert King, Pulitzer-prize winning author of Beneath a Ruthless Sun and Devil in the Grove

"A story within a story within a story—once you think you know what The Forever Witness by Edward Humes is about, Humes takes you deeper. It is not only a story of the tragic murders of two young people—but about the tale their bodies told, and how, after decades, that tale was able to come to light. Layered and informative, compassionate and analytical, this book picks up where Michelle McNamara's I'll Be Gone in the Dark leaves off, explaining the miracle that is genetic genealogy as well as the ethical quagmire that surrounds it, while also offering a dignified eulogy to two lives violently, monstrously cut short." 
—Rachel Rear, author of Catch the Sparrow

"Ed Humes is not a fancy writer, and I mean that as a compliment.  He does not write for the applause of literary reviewers or book critics.  He writes for smart readers.  He is a gifted storyteller, an absolute master of the narrative.  The Forever Witness, the story of a kidnapping and murder, seizes you on the first page and holds you captive until the end."
—Gene Weingarten, two-time Pulitzer Prize winner for feature writing, Washington Post journalist and author of One Day

"Top-notch, must-read true crime. Edward Humes has crafted a brilliant and riveting account of a haunting cold case, a relentless detective, and the birth of a cutting-edge forensic tool." 
—Dean Jobb, author of The Case of the Murderous Dr. Cream and Empire of Deception, and professor in the MFA in Creative Nonfiction program at the University of King's College

"The Forever Witness is one of the best true crime books I've ever read—a riveting page turner that also made me so much smarter. With his deep and empathetic reporting, Humes manages to illuminate both the vivid history of a cold case and the complex future of criminology and genealogy." 
—Eli Saslow, Pulitzer Prize winner, Washington Post journalist, and author of Rising Out of Hatred

"The Forever Witness is a nuanced examination of the role of genetic genealogy in criminal investigations, told through the wrenching, personal story of a horrific double murder left unsolved for decades. Humes approaches his subject with intelligence and probing curiosity, and the result is a fascinating study of the newest frontiers in information and DNA science." 
—Steph Cha, author of Los Angeles Times Book Prize winner Your House Will Pay